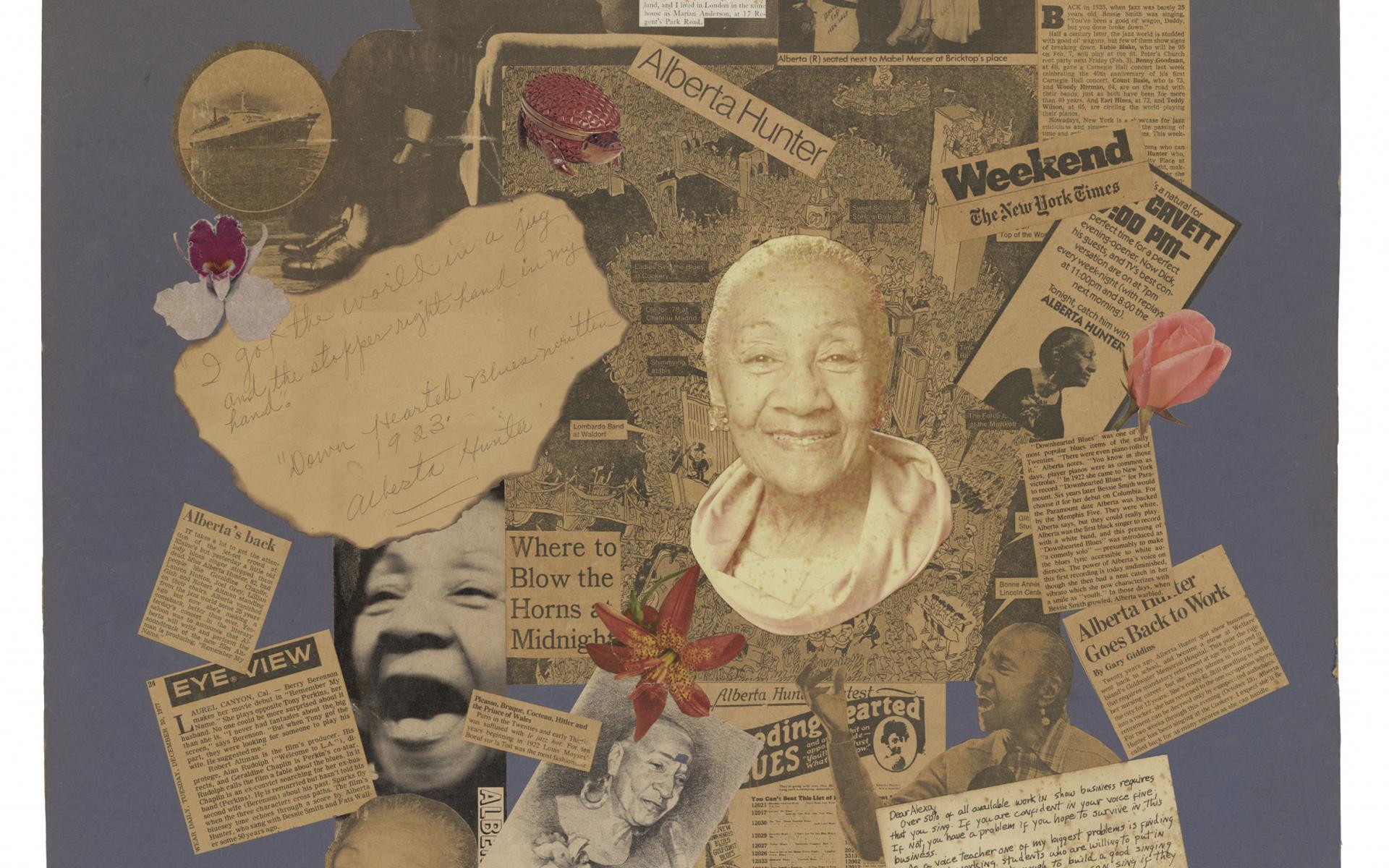 Alberta Hunter
(1895–1984)
Alberta Hunter (1895–1984) was a blues and jazz singer/songwriter who rose to prominence during the Harlem Renaissance. Her flourishing career in the United States and Europe spanned eight decades.
Alberta Hunter was born in Memphis, Tennessee. Her father, Charles Hunter, was a Pullman Porter, but she was raised by her single mother Laura Peterson, a maid. Enduring a childhood marked by poverty, Hunter to decided to make a living for herself at a young age. Sometime between the age of 11 and 15, Hunter convinced a teacher to take her to Chicago where she had heard singers could make up to $10 a week.
Arriving in Chicago, Hunter lived with a friend of her mother's until she found a job peeling potatoes for a boarding house in exchange for $6 a week and room and board. When possible, she would send money to her mother. Determined to become a singer, Hunter dressed in clothing that would make her look older. She successfully captured a singing opportunity in 1911 at Dago Franks, a brothel, with the help of sex workers. People began noticing her talent and in 1914, she was mentored by jazz pianist Tony Jackson. As her reputation grew, so did her opportunities. The Panama Club, a whites only club, hired her as a cabaret singer and dancer. Hunter's big break came in 1917 when she started singing at the Dreamland Café alongside King Oliver and his band. She signed on to a five-year association with Dreamland, earning $35 a week, and moved her mother to Chicago.
Different from the other blues singers who performed in vaudeville, Hunter's blues had a cabaret influence. Hunter unique style in blues stemmed from her incredible ability to improvise lyrics, adding melodic and textual twists. She was signed on the Black Swan label and her first recording was "How Long, Sweet Daddy, How Long?" in 1921. By the end of 1922, Hunter had recorded fourteen songs.
While living in Chicago, Hunter married Willard Saxby Townsend in 1919, but the two separated months later. Hunter always maintained she and Townsend never consummated the marriage and she did not marry again. She had an on and off again relationship with Lottie Tyler, the niece of comedian Bert Williams. Tyler traveled to Europe with Hunter in the late 1920's and the two remained close until Tyler's death. Hunter kept her romantic relationship with Tyler and other women under wraps, never publicly acknowledging she was a lesbian.
After her divorce was finalized in 1923, Hunter moved to New York City, living with Tyler for a time. Though already a known singer and songwriter, Hunter gained further success from her co-written song "Down-Hearted Blues" which was sang by Bessie Smith and became a national hit. Hunter embarked on a European tour in 1927 and landed the leading role of Queenie in the London production of Show Boat (1928). When Hunter returned to the United States, she would travel between New York City and Chicago, recording and performing in both cities. She left for Europe again in 1933 due to the better opportunities provided to Black entertainers compared to those in the United States. While in London, she appeared in the film Radio Parade of 1935, where Hunter's scene was the only part of the film recorded in color. She spent most of the 1930s working in Europe until the outbreak of WWII, after which she returned to the United States. Hunter signed up to entertain troops on a United Service Organization (USO) unit throughout the war. Her final performance in the USO was for Gen. Dwight D. Eisenhower in June 1945.
Throughout her success, Hunter took great care of her mother. She retired from singing after her mother died in 1955. Faking documents and lying about her age, Hunter became a nurse. First as a volunteer at the Joint Diseases Hospital in Harlem then as a practical nurse at the Goldwater Hospital on Roosevelt Island in New York City. In 1977, after a 20-year career, Hunter reached the retirement age of 70 years old though she was actually 82 years old.
By accident, Hunter was "re-discovered" in 1977 after she attended a party for her friend Mabel Mercer and began singing to the party guests. This led to a six-week engagement at the Cookery in Greenwich Village that began October 1977. Hunter was soon commissioned by movie director Robert Altman to record the soundtrack for the film Remember My Name. She continued to perform and record until her death in 1984 at the age of 89.
In October 1968, Hunter was honored in Memphis, where it was proclaimed to be Alberta Hunter Day throughout Tennessee. Alberta Hunter was inducted into the Blues Hall of Fame in 2011 and the Memphis Music Hall of Fame in 2015.