Luther Vandross (1951–2005) was a vocalist, songwriter, and performer whose musical compositions influenced Broadway, pop, and late-night radio formatting.  
Born in New York City to Luther Vandross Sr. and his wife Mary Ida, Luther Ronzoni Vandross grew up surrounded by the city's rich culture. Raised in Harlem and later the Bronx by parents with backgrounds as vocalists with gospel and big band ensembles, Vandross developed a strong ear at a young age. He learned to play piano by ear by following along with records and honed his vocal stylings by listening to various vocalists. As a high school student, he organized vocal harmony groups, which became a significant training ground where Vandross developed his velvety-textured tenor voice. Over his teenage years, Vandross developed his balladeer showmanship by watching top-tier performers on stage at the Apollo Theater and performing on the venue's stage himself during Amateur nights. He briefly attended Western Michigan University before transitioning into a full-time music career that saw him quietly take over mainstream American music and culture, infusing it with his elegant "camp" aesthetic. 
In the early years of his professional career, Luther Vandross juggled gigs as a jingle singer and sought-after background vocalist with a reputation as a skilled session artist. Within New York's central position in the crossroads of the entertainment world, Vandross lent his hand at composing for Broadway with hits such as "Brand New Day" for The Wiz (1975) and participated in pioneering glam rock acts as a backing vocalist for artists including David Bowie. He also sang with dance-pop vocal groups like Change throughout this period. His eclectic work brought Vandross both exposure and time to develop a comfortable stage presence before embarking on a solo career.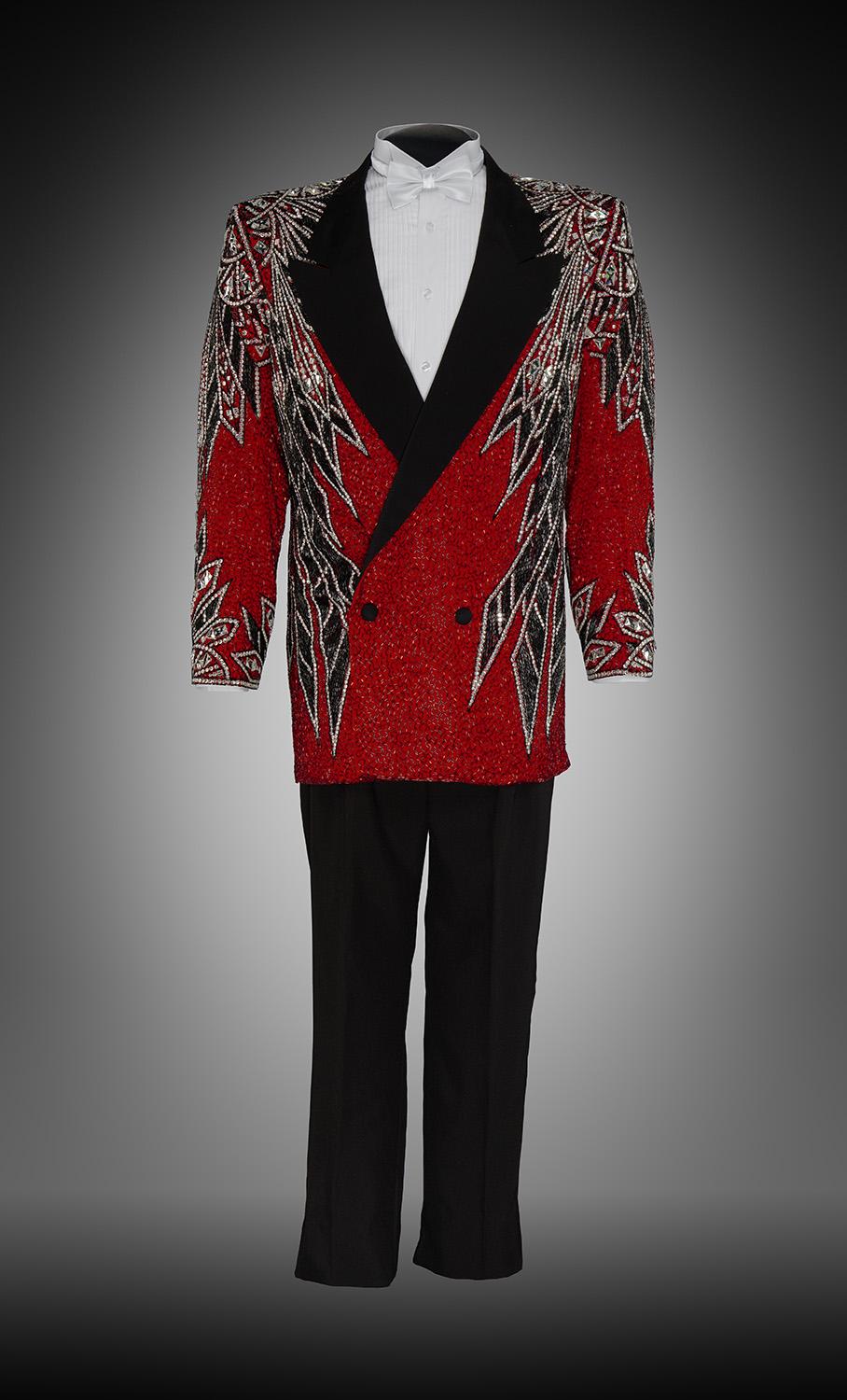 Vandross made his debut as a solo artist in 1981 with the release of Never Too Much on Epic Records. In quick succession, he released follow-up albums that built on the danceable repertoire of love songs that supported Vandross's widespread appeal. His audiences fell in and out of love, marked important life events, and went about their daily lives to the soundtrack of his music. By the late 1980s, Vandross was booking large-scale arenas for his concert tours. He dazzled his fans with soaring vocals and shimmering suits that corresponded with equally impressive garments worn by his accompanying background singers. Folks flocked to see Vandross perform his biggest hits with his background singers and friends, including Ava Cherry, Lisa Fischer, and Kevin Owens. Strutting about the stage and throwing in short, coordinated choreography routines, the musicians delivered exciting concerts that heightened the experience of listening and singing along to Vandross's popular oeuvre. 
Vandross continued his success following his immense activity in the 1980s and maintained his status as an influential, once-in-a-generation artist shaping the trajectory of American music. His body of work, specifically his love songs, was integral to the American soundscape of the late twentieth century. His songs were definitive examples of Quiet Storm music's smooth, jazz-influenced romantic ballads that dominated late-night urban radio programs. Throughout his career, he kept a busy schedule releasing music and touring. His last studio album, Dance with My Father, released in 2003, featured Vandross's powerful musical homage to his father. The autobiographical title track song commemorates Vandross's happy childhood memories of dancing at home with his mother and father in a way that resonated with audiences. The song earned Vandross several awards, including a Grammy Award for Song of the Year. This final musical chapter in the fifty-two-year-old's career featured him working alongside jazz musicians like Nat Adderley, Jr. and young rising music icons including Beyoncé Knowles.
Exhibiting an interest in romance from a young age, Vandross gravitated toward leading vocalists like Dionne Warwick, Diana Ross, Aretha Franklin, and Patti LaBelle. These women's music, which often discussed romantic love and life at home, appealed to Vandross in his childhood as he processed his father's death. Losing his father to diabetes complications in 1959, at the impressionable age of eight years old, Vandross looked to his community and entertainers to inform his musical voice and his expression of sensitive masculinity. Later in his career as a solo artist, this sensitivity was felt through thoughtful interpretations of love songs and flashy concert wardrobes.  
Throughout his life, Vandross tightly controlled what elements of his personal life were shared with the public. A lifetime "bachelor," the media frequently speculated on the vocalist's sexuality. His significant weight loss in the mid-1980s, a result of dieting, occurred amidst the AIDS epidemic and spurred on false rumors that he too suffered from the disease that heavily impacted the gay community. Vandross denied the false reports and never spoke publicly about his sexuality. Still, he quietly informed queer culture as his popularity carried his sensitive balladeering and campy spectacle worldwide. His public silence fed interest and contributed to his public persona as an emotional romantic longing for a love to share his life with. This ambiguity supported Vandross's career while also offering another example of Black masculinity to the American cultural landscape. 
On July 1, 2005, Vandross passed away at fifty-four due to complications caused by high blood pressure and chronic diabetes. For several years, he had struggled with the same health issues that impacted his older siblings and his father decades earlier. He was survived by his mother and beloved nieces and nephews. His legacy in American music is immeasurable and is still felt to this day. 
View objects relating to Luther Vandross
Top image: Lyrics for "Dance with My Father" handwritten by Luther Vandross, 2003. Gift of Fonzi Thornton in Memory of Luther Vandross, © Estate of Luther Vandross. 2018.87