From September 27 - 29, 2018, the Museum presented Shifting the Landscape: Black Architects and Planners, 1968 to Now, a symposium focused on the activism, engagement, and impact of black architects and planners over the past fifty years.
2018 Symposium Highlights Video
Video Archive
Watch keynote presentations, panel discussions, and more from the 2018 symposium on the Museum's Ustream channel.
The 2018 Symposium in Photos
Photographs of our speakers, student participants, guests, and more from the 2018 symposium.

About the Symposium
The 2018 symposium brought together architects, planners, and scholars of the built environment. Participants reflected on key events in the late 1960's that shaped architecture and planning in the decades that followed. Live-streamed presentations enhanced public access to black architects of today and highlighted projects of architects and planners currently working to create more equitable spaces. Shifting the Landscape also provided opportunities for high school and university students to engage with practicing architects and to learn about their different modes of practice.
Why 1968?
In June 1968, Whitney M. Young Jr., Executive Director of the National Urban League, delivered a landmark address to the American Institute of Architects (AIA). He called for more diversity in the profession and challenged architects to act on critical issues facing urban communities. Following Young's speech, new funding initiatives opened doors for minority students to pursue architecture and planning degrees in greater numbers. Also during this era, architect J. Max Bond Jr. mentored several students and shaped their commitments to social justice and community needs.
Explore More
Discover online resources, read presenter biographies, learn about the museum's design, and explore more from the 2018 symposium.
Resources
For individuals interested in learning more about design and the built environment and the activism, engagement, and impact of black architects and planners. Included also are resources for connecting with organizations serving the architectural, urban planning, and preservation professions.
Videos
Video resources compiled by Pascale Sablan, Historian for the National Organization of Minority Architects.
Books
Allen, Diane Jones. Lost in the Transit Desert: Race, Transit Access, and Suburban Form. Routledge, 2017.
Anthony, Carl. The Earth, the City, and the Hidden Narrative of Race. New Village Press, 2017.
Barton, Craig, ed. Sites of Memory: Perspectives on Architecture and Race. Princeton Architectural Press, 2001.
Bell, Carla Jackson. Space Unveiled: Invisible Cultures in the Design Studio. Routledge, 2014.
Cook, Peter. Architecture Workbook: Design Through Motive. Wiley, 2016.
Curry, Milton. African-American Architectural Presence in Arizona. Arizona State University, 1993.
David Adaye: Form, Heft, Material. Art Institute of Chicago, 2015.
Davis, Felecia. Softbuilt: Computational Textile Architecture, Actar-D Press: 2019.
Dixon, Kathy Denise. The Business of Architecture: Your Guide to a Financially Successful Firm. Routledge, 2017.
Fields, Darell. Architecture in Black: Theory, Space and Appearance. Bloomsbury Academic, 2016.
Finney, Carolyn. Black Faces, White Spaces: Reimagining the Relationship of African Americans to the Great Outdoors. University of North Carolina, 2014.
Fullilove, Mindy Thompson. Urban Alchemy: Restoring Joy in America's Sorted-out Cities. New Village Press, 2013.
Goldstein, Brian D. The Roots of Urban Renaissance: Gentrification and the Struggle over Harlem. Harvard University Press, 2017.
Gooden, Mario. Dark Space: Architecture, Representation, Black Identity. Columbia University Press, 2016.
Hood, Walter. Urban Diaries. Spacemaker Press, 1997.
Hutson, Malo. The Urban Struggle for Economic, Environmental and Social Justice. Routledge, 2016.
Leggs, Brent. Preserving African American Historic Places. National Trust for Historic Preservation, 2012.
Mitchell, Melvin. The Crisis of the African American Architect. iUniverse, Incorporated, 2002.
Robinson, Harry G. and Hazel Ruth Edwards. The Long Walk: The Placemaking Legacy of Howard University. Moorland-Spingarn Research Center, Howard University, 1996.
Sutton, Sharon Egretta. When Ivory Towers Were Black: A Story about Race in America's Cities and Universities. Empire State Editions, 2017.
Thomas, June Manning and Marsha Ritzdorf, eds. Urban Planning and the African American Community: In the Shadows. Sage Publications, 1996.
Travis, Jack. African American Architects in Current Practice. Princeton Architectural Press, 1991.
Vlach, John Michael. Back of the Big House: The Architecture of Plantation Slavery, University of North Carolina Press, 1993.
Wilkins, Craig. The Aesthetics of Equity: Notes on Race, Space, Architecture, and Music. University of Minnesota Press, 2007.
Wilkins, Craig. Diversity Among Architects: From Margin to Center. Routledge, 2016.
Wilson, Dreck. African American Architects: A Biographical Dictionary, 1865-1945. Routledge, 2004.
Wilson, Mabel O. Negro Building: Black Americans in the World of Fairs and Museums, University of California Press, 2012.
Wilson, Mabel O. Begin with the Past: Building the National Museum of African American History and Culture. Smithsonian Books, 2016.
Professional Associations
American Institute of Architects (AIA)
American Institute of Architects (AIA) advocates for the value of architecture and to give architects the resources they need to do their best work.
American Planning Association (APA)
The American Planning Association is a professional organization representing the field of urban planning in the United States.
Related Organizations
African American Cultural Heritage Action Fund
The African American Cultural Heritage Action Fund is a funding initiative aimed at protecting and restoring African American historic sites and uncovering hidden stories of African Americans connected to historic sites across the nation.
American Institute for Conservation
The American Institute for Conservation's Architecture Specialty Group (ASG) develops and promotes the conservation of immovable cultural property such as buildings, monuments, outdoor sculpture, and related heritage sites.
Architects/Designers/Planners for Social Responsibility
Architects/Designers/Planners for Social Responsibility works for peace, environmental protection, ecological building, social justice, and the development of healthy communities.
Association of Architecture Organizations
The Association of Architecture Organizations conducts public programs that serve nonprofit architectural organizations and interested individuals.
National Organization of Minority Architects
The National Organization of Minority Architects (NOMA) exists to champion diversity within the design professions by promoting the excellence, community engagement, and professional development of its members.
National Trust for Historic Preservation
The National Trust for Historic Preservation protects significant places representing our diverse cultural experience by taking direct action and inspiring broad public support.
The National Urban League strives to enable African American and other underserved urban residents to secure economic self-reliance, parity, power and civil rights.
Planning and the Black Community Division
The Planning and the Black Community Division (PBCD) of the American Planning Association provides a forum for planners, administrators, public officials, students, and other interested individuals to address issues of significance to the black community.
Society of Architectural Historians
The Society of Architectural Historians (SAH) is a nonprofit membership organization that promotes the study, interpretation, and conservation of architecture, design, landscapes, and urbanism worldwide.
Objectives
To bring greater visibility to black architects by sharing past achievements and current challenges as well as new passions and enduring commitments
To include planners in conversations about the work black architects and other design professionals undertake within the built environment
To highlight the projects and advocacy of architects and planners who seek to create just communities and more equitable spaces, thereby improving the quality of life for African Americans and others who have been adversely affected (historically and in the present) by discriminatory policies and practices shaping the built environment
To provide students and the general public opportunities to engage with design professionals, thereby making these professions more accessible and attractive career options for future practitioners
Speakers
Sir David Adjaye OBE is the principal and founder of Adjaye Associates. His largest project to date, the $540 million Smithsonian Institution National Museum of African American History and Culture, opened on the National Mall in September 2016 and was named Cultural Event of the Year by the New York Times.
Carl Anthony is an architect, regional planner, and social justice leader. He is currently co-founder of the Breakthrough Communities Project and Visiting Professor at the UC Davis Center for Regional Change. Anthony is revered as the founder and former executive director of Urban Habitat, one of the country's oldest environmental justice organizations, known for pushing the mainstream environmental movement to confront issues of race and class.
William J. Bates, FAIA, is the 2018 First Vice President/2019 President-elect of the American Institute of Architects. As Vice President of Real Estate for Eat'n Park Hospitality Group, Bates is responsible for the restaurant growth division. He also managed the design and construction of 1.4 million square feet of office, laboratory, and manufacturing space with Marconi, Inc.
Carla Jackson Bell is dean and professor of architecture at Tuskegee University's School of Architecture and Construction Science and Management. Bell has 26 years of professional experience in higher education. She is the editor and author of Space Unveiled: Invisible Cultures in the Design Studio, which examines issues of race, culture, gender, and space in design studios.
Jane Clement Bond grew up on southern African American ("Negro") college campuses and in Port-au-Prince, Haiti. She has a B.A. from Sarah Lawrence College, an M.A. from the University of Birmingham, England, and a Ph.D. from University College London. In England, she taught French history in the extra-mural department of London University. In the U.S., Dr. Bond has taught at Lincoln University and at Baruch College of the City University of New York.
Cynthia A. Bowen, FAICP is the Director of Planning for REA, a planning and urban design firm. Cynthia manages multi-discipline domestic and international planning and design projects. Cynthia is the President of the American Planning Association. She graduated from Ball State University with a bachelors degree in Urban and Regional Planning.
Gabrielle Bullock oversees Perkins+Will's Diversity, Inclusion, and Engagement program, which supports a firm-wide culture embracing a diversity of people, colors, creeds, credos, talents, thoughts, and ideas. Through her role as the firm's director of global diversity, the award-winning principal combines her passion for architecture and social justice to effect positive change at a micro and macro level.
Marcia Y. Cantarella is the daughter of Whitney M. Young Jr. Previously a corporate executive and college dean, she is the author of I CAN Finish College. She works with various programs on college success. She serves on the boards of directors of READ Alliance and the College of Saint Elizabeth.
Peter Cook is an award-winning architect whose contributions include the National Museum of African American History and Culture. A native of Detroit and graduate of Columbia and Harvard universities, he is also a direct descendent of celebrated African American architect, Julian F. Abele. Cook is currently a Design Principal with HGA in Washington, D.C.
Maurice Cox, appointed planning director for the City of Detroit, is an urban designer, architectural educator and former mayor of Charlottesville, Virginia. He has also served as associate dean for community engagement at Tulane University's School of Architecture and Director of Tulane City Center, a university-affiliated practice operating at the intersection of design, urban research, and civic engagement.
Milton S. F. Curry holds the Della and Harry MacDonald Dean's Chair at the University of Southern California School of Architecture. Previous positions include associate dean for academic affairs and strategic initiatives at the University of Michigan Taubman College of Architecture & Planning and the founder/director of the Michigan Architecture Prep enrichment program for high school students in Detroit.
J. Yolande Daniels co-founded the architecture and design practice studioSUMO, and is a visiting associate professor in the MIT Graduate School of Architecture. She received architecture degrees from Columbia University and City College/CUNY, fellowships from the Independent Study Program of the Whitney Museum of American Art, and the Rome Prize in Architecture.
Richard K. Dozier is a licensed architect and educator with interests and expertise in architectural history and historic preservation. He is dean emeritus and founding dean of the Tuskegee Robert R Taylor School of Architecture, with additional teaching experience at Yale, Tuskegee, Morgan State, and Florida A&M Universities. His dissertation is the seminal work on Tuskegee's pioneer architecture program.
Hazel Ruth Edwards, FAICP is professor and chair of the Department of Architecture at Howard University. For nearly two decades, she has served as both educator and administrator in architecture and planning programs at three universities. She is co-author of The Long Walk: the Placemaking Legacy of Howard University, which has led to her exploration of placemaking practices at other historically black college and university campuses.
Carlton C. Eley chairs the American Planning Association's Social Equity Task Force. He is a former civil servant whose career with the U.S. Environmental Protection Agency (EPA) spanned twenty years. Eley was the first urban planner hired by the Office of Environmental Justice at EPA, where he managed a portfolio on equitable development.
Michael Ford is known as the Hip-Hop Architect because he explores architecture and urban planning through the lens of hip-hop culture. Ford's work has been featured in a variety of places, including the Today Show, Rolling Stone magazine, ESPN's The Undefeated, and Vibe magazine.
Mario Gooden is a cultural practice architect and sole principal of Huff + Gooden Architects. He engages the cultural landscape and intersectionality of architecture, race, gender, sexuality, and technology. Gooden is also professor of practice at Columbia University where he co-directs the Global Africa Lab. Gooden is the author of Dark Space: Architecture, Representation, Black Identity.
Bradford C. Grant is a registered architect and educator with experience in drawing, community design, and contemplative practices in design education. Grant holds a Masters of Architecture degree from the University of California, Berkeley, and the undergraduate first professional degree from California Polytechnic State University, San Luis Obispo, CA.
Toni L. Griffin founded Urban Planning for the American City in New York. Through the practice, Griffin served as project director for the Detroit Works Project Long Term Planning initiative and released Detroit Future City. She is also professor in practice of urban planning at the Harvard Graduate School of Design, and runs The Just City Lab.
Monte Oyd Harris is a surgeon, scholar, and entrepreneur, devoted to exploring humanity with an aesthetic compass. At a time when beauty culture is characterized by excessive and sometimes harmful cosmetic procedures, Harris is pioneering a holistic approach to well-being at the intersection of self-image, health, heritage, and the built environment.
Zena Howard, FAIA is a principal and managing director of the North Carolina global architecture and design firm Perkins+Will. An award-winning architect, strategist, mentor and team builder, Howard is known for leading visionary, complex, and culturally significant projects, including the National Museum of African American History and Culture.
Bryan Wendell Hudson is a licensed architect in the state of Illinois. He is president and founder of SOMA Design Consultants, an architectural design and construction management firm specializing in residential, commercial, religious, and educational design. Hudson served as treasurer for the National Organization of Minority Architects (NOMA) and he is the 2017-2018 NOMA President.
Malo Hutson is an associate professor in urban planning and founder and director of the Urban Community and Health Equity Lab within the Graduate School of Architecture, Planning, and Preservation at Columbia University. He is also an associate member of the Earth Institute faculty at Columbia.
Olalekan Jeyifous is a visual artist whose work has been exhibited at venues such as the Studio Museum in Harlem, Museum of Modern Art, and Guggenheim Bilbao. In addition to his extensive exhibition history, Jeyifous has spent more than a decade creating large-scale artwork for a variety of public spaces.
Renee Kemp-Rotan is an urban designer and master planner who has served ten mayors as urban policy advisor in Washington, D.C., New York, Atlanta, and Birmingham, Alabama. She was the first African American female to graduate from Syracuse University with a Bachelors in Architecture. She has directed the AIA's Design, Education, Practice Division, National Endowment for the Arts Design Demonstration, and National Design Competition programs.
Brent Leggs is a Harvard Loeb Fellow and author of Preserving African American Historic Places. He led the National Trust's campaign to create the Birmingham Civil Rights National Monument established by President Barack Obama in January 2017. Other projects include Madam C. J. Walker's Villa Lewaro, Joe Frazier's Gym, and Nina Simone's childhood home to name a few. Brent is also an Assistant Clinical Professor at the University of Maryland's Graduate Program in Historic Preservation.
R. Steven Lewis is an architect and a tireless advocate for social justice and diversity within the field of architecture. Lewis currently serves as urban design director for the Detroit's Central Region, helping to shape the vision of present and future development. His honors include the 2016 Whitney M. Young Jr. Award and Loeb Fellow at Harvard Graduate School of Design.
Michael Marshall, head of Michael Marshall Design, attended D.C. public schools before beginning his studies at The University of the District of Columbia. He completed his Bachelor's degree in Architecture with a Minor in Studio Art at The Catholic University of America. He earned his Master's degree in Architecture from Yale University. Michael Marshall Design (MMD) is a DC-based architecture and design firm, serving clients in the public and private sectors.
Melvin Mitchell has been in practice for the past forty-five years and is author of The Crisis of the African American Architect. He has held academic positions at three HBCU architecture schools. He is a Fellow in the AIA, a past president of the D.C. Board of Architecture, and past president-elect of National Organization of Minority Architects.
Curtis J. Moody, FAIA is an award-winning architectural designer, has had a prosperous 44-year career with such honors as the Whitney M. Young Jr. Award, AIA Ohio Gold Medal Award, AIA Ohio Gold Medal Firm of the Year Award. Moody's firm is the largest African American architectural firm in the U.S.; his designs have received more than 275 awards.
Justin Garrett Moore is an urban designer and the executive director of the New York City Public Design Commission. He has extensive experience in urban design and city planning, from large-scale urban systems, policies, and projects to grassroots and community-focused planning, design, and arts initiatives.
Jennifer Newsom is an architect, artist, and co-founder (with Tom Carruthers) of Dream The Combine, based in Minneapolis. She is also assistant professor at the University of Minnesota School of Architecture. She and Carruthers are winners of the 2018 Young Architects Program at MoMA PS1 for their installation Hide & Seek.​
Joe Osae-Addo was born in Ghana, West Africa, and trained at the Architectural Association in London. He is currently CEO of Constructs R&D, an inno-native(™) design firm based in Accra and chairman of ArchiAfrika Foundation. He can be found at ArchiAfrika Design + Architecture Gallery and Jamestown Cafe.
Cy Richardson is a Senior Vice President at the National Urban League. He leads the League's program design, implementation, and evaluation activities, supporting national efforts to create economic and social opportunities and ensure that prosperity is widely shared regardless of race, gender, ethnicity, or geography. He holds graduate degrees in City and Regional Planning from Pratt Institute and Urban Politics from the City University of New York's Graduate Center.
Harry G. Robinson III, FAIA, AICP is a professor of architecture and dean emeritus of the School of Architecture and Design at Howard University. His leadership career spans practice/consultation, teaching, design management and research. He is managing principal, TRGConsultingGlobal and executive architect, American Battle Monuments Commission. His current projects include writing the history of architecture education at Howard University.​
Pascale Sablan is a Senior Associate at S9 ARCHITECTURE. Pascale is the 315th living African American female licensed architect in the U.S. She is an architect, mentor, humanitarian, entrepreneur, and social advocate to advance architecture for the betterment of society, mentor youth, and bring greater visibility and voice to the issues concerning minority architects
Dr. Sharon Egretta Sutton, FAIA is currently visiting professor at Parsons School of Design and adjunct professor at Columbia University. She has also served on the faculties of Pratt Institute and University of Cincinnati, the University of Michigan, and the University of Washington. The twelfth African American woman in the U.S. licensed to practice architecture, Sutton is in the Michigan Women's Hall of Fame.​
Jack Travis established his design studio in 1985 and in his work has developed ten principles for black cultural design investigation. Travis is a graduate of Arizona State University and University of Illinois, Champaign- Urbana, 1978, Travis has achieved AIA Fellow and National Organization of Minority Architects (NOMA) Council member status.​
Roberta Washington has researched, written and lectured about the history of African American architects. Principal of her own architectural practice since 1983, she holds architectural degrees from Howard and Columbia universities. She is past president of National Organization of Minority Architects and past commissioner of the New York City Landmarks Preservation Commission.
Craig l. Wilkins is an architect, author, academic, activist, and hip-hop architectural theorist who serves on the faculty at the University of Michigan Taubman College of Architecture and Urban Planning. He is a recipient of a 2017 National Design Award from Cooper Hewitt, Smithsonian Design Museum. His creative practice includes both written and built work.​
Michelle Joan Wilkinson is a curator at the National Museum of African American History and Culture, where she co-curated A Changing America: 1968 and Beyond and A Century in the Making: Building the National Museum of African American History and Culture. Wilkinson is also expanding the museum's collections in architecture and design.​
Amanda Williams is a visual artist who trained as an architect. Her practice blurs the distinction between art and architecture through works that employ color as a way to draw attention to the political complexities of race, place, and value in the urban environment. ​
Mabel O. Wilson is a professor of architecture, co-director of Global Africa Lab, and associate director at the Institute for Research in African American Studies at Columbia University. She has authored Begin with the Past: Building the National Museum of African American History and Culture (2016).​
Sara Zewde is principal of Studio Zewde, a firm practicing at the intersection of landscape architecture, urbanism, and public art. Zewde regularly writes, lectures, and exhibits work and research. She is the recipient of a number of awards, including the National Olmsted Scholar Award and the Hebbert Award for Contribution to Urban Studies and Planning at MIT.
Advisory Committee
Marcia Calloway, American Institute of Architects
Hazel Edwards, Howard University
Carlton Eley, Social Equity Task Force of the American Planning Association
John Franklin, National Museum of African American History and Culture
Bradford Grant, Howard University
Toni L. Griffin, Harvard Graduate School of Design
Renee Kemp-Rotan, studiorotan
Jennifer Newsom, University of Minnesota and Dream The Combine
Del Ruff, American Institute of Architects
Mabel O. Wilson, Columbia University
Schedule
Activism in Architecture and Planning: 1968 in Review
Reception
Building a Legacy
Keynote Presentation: On Serving and Preserving
Student Engagement Program
Holding Space: Architects in Conversation
Designing for the Culture
Planning for Justice
Shifting the Future
Reception
Shifting the Lens: Diaspora Perspectives on Architecture and Design
About the NMAAHC Building Design
The Museum building is African American history and culture writ large on the National Mall of the United States. Its location and its design represent the past, present, and future of the African American experience in ways tangible and symbolic.
The Museum's symbolic presence on the National Mall is matched by the symbolism of the building itself. Lead designer David Adjaye and lead architect Philip Freelon, together with their architectural team Freelon Adjaye Bond/SmithGroup, won an international competition in April 2009 to design and deliver the museum to the people of the United States. Groundbreaking on the five-acre site took place in February 2012, with the Museum's grand opening celebrated on September 24, 2016.
From one perspective, the building's architecture follows classical Greco-Roman form in its use of a base and shaft, topped by a capital or corona. For our Museum, the corona is inspired by the three-tiered crowns used in Yoruban art from West Africa. Moreover, the building's main entrance is a welcoming porch, which has architectural roots in Africa and throughout the African Diaspora, especially the American South and Caribbean. Finally, by wrapping the entire building in an ornamental bronze-colored metal lattice, Adjaye pays homage to the intricate ironwork crafted by enslaved African Americans in Louisiana, South Carolina, and elsewhere.
The enveloping lattice also opens the building to exterior daylight, which can be modulated according to the season. The openness to light is symbolic for a museum that seeks to stimulate open dialogue about race and help promote reconciliation and healing. From the topmost corona, the view reaches ever upward, reminding visitors the Museum is an inspiration, open to all as a place of meaning, memory, reflection, laughter, and hope. This design is also architecturally practical and sustainable.
This building is the first museum on the National Mall designed to sustainability standards, serving as the Smithsonian's 'Green Flag,' receiving LEED Gold Certification in 2018.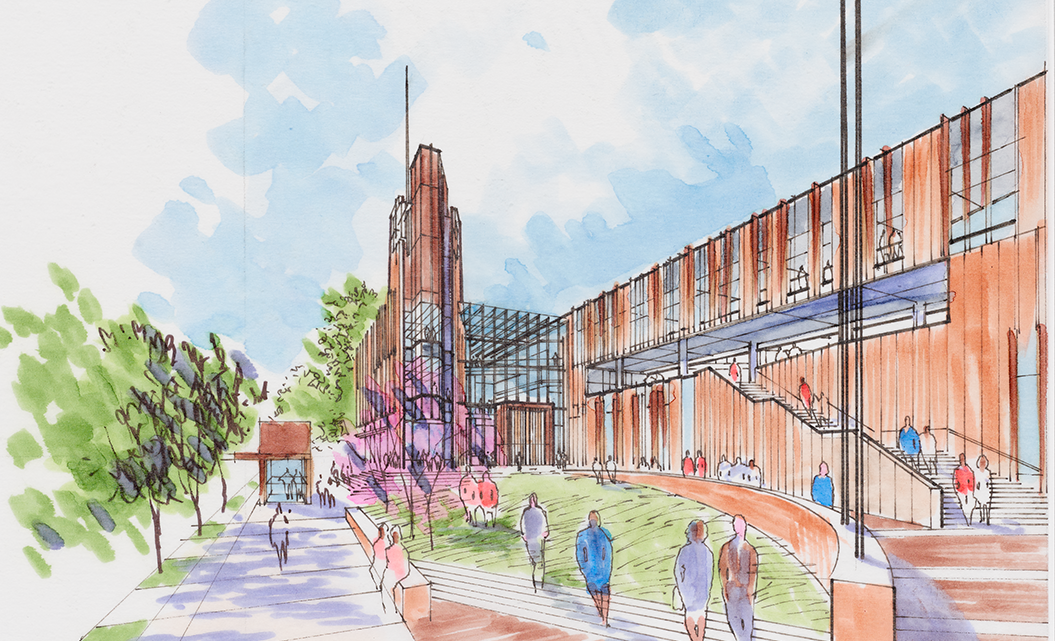 Building a Better Future
Shifting the Landscape is an extension of the Museum's efforts to build collections in architecture and design. Pioneering African American architects such as Harold L. Williams, Norma Merrick Sklarek, and John S. Chase, expanded the profession and paved the way for a new generation, including Philip G. Freelon and Michael Marshall. Learn more about the work and legacy of these five African American architects in our Collection Story.
Read More
EXPLORE OUR COLLECTION
Discover photographs, objects, and more from our architecture and design collection.