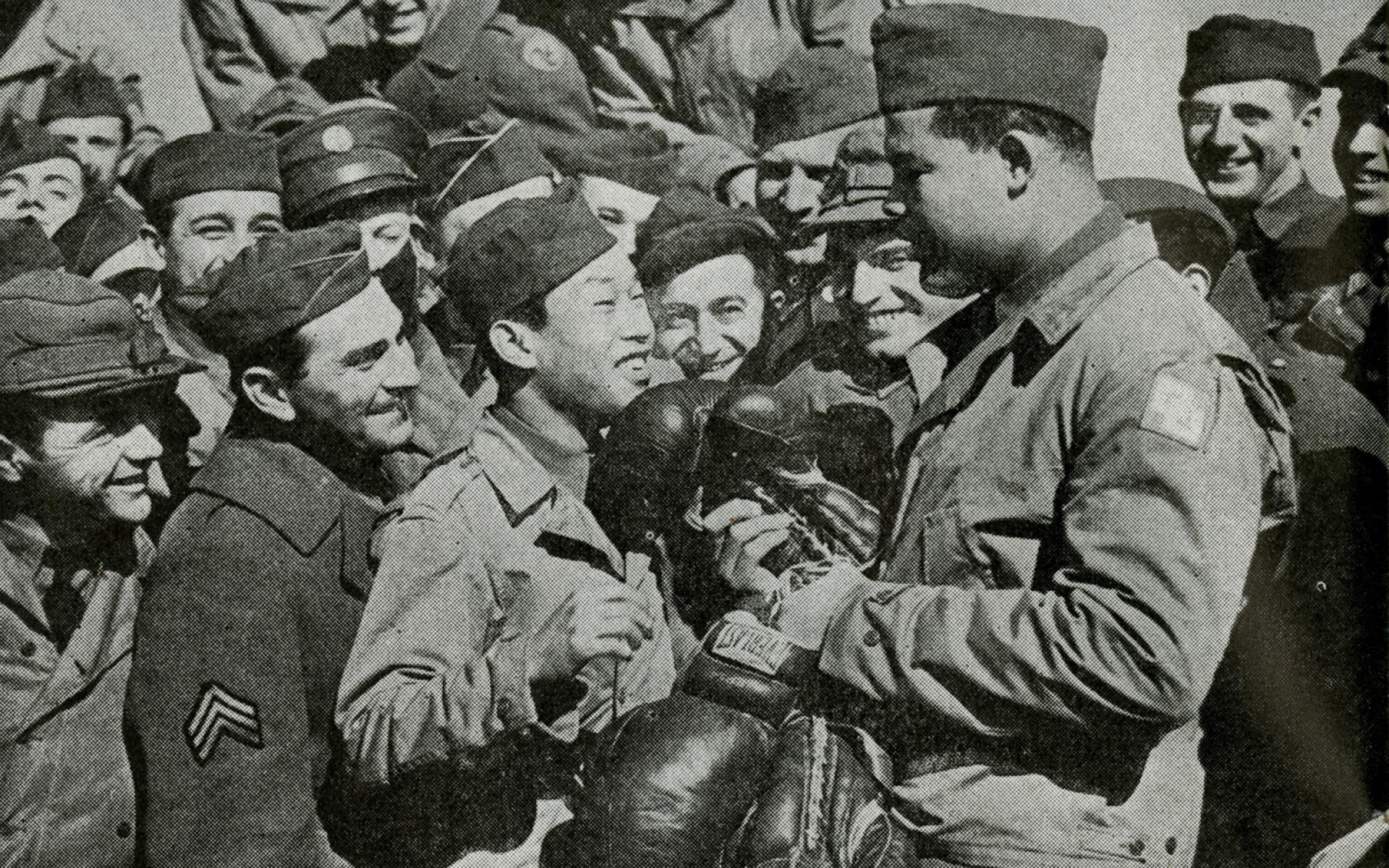 Collection Story
Joe Louis' Sacrifice and Service for Equality
Joe Louis' contributions to society, the war effort, and racial equality embody the efforts of African American servicemembers during World War II, as they fought a battle on two fronts: against foreign fascism and domestic white supremacy.
At the onset of World War II, African Americans were asked to join the war effort to defend democracy abroad while suffering from exclusionary and undemocratic policies at home. These exclusionary and undemocratic policies were also in the military, where African Americans were expected to serve in segregated units with unequal treatment and limited opportunities to advance in rank. Needing soldiers and financial support from all Americans for the war effort, the U.S. Government used propaganda and the press to encourage African Americans to join the war effort. In press and propaganda efforts, the government highlighted Black figures who represented American strength, courage, and achievement. In these images, Black servicemembers were shown in positions of heroism similar to their white counterparts—often in dashing, polished uniforms. These depictions of Black servicemembers in heroic poses were meant to emphasize the importance of African Americans' contributions to the war effort.
African Americans were apprehensive about becoming involved in the conflict—encapsulated in James Thompson's 1942 letter in the Pittsburgh Courier, "Should I Sacrifice To Live 'Half-American'?" In this letter, Thompson questions if the contributions and sacrifice of Black lives in service of the United States would be worth it, given that the United States failed to recognize African Americans as full citizens—with segregation, racial violence, and systemic inequality a part of everyday life. These dual conflicts addressed in Thompson's letter—fighting for victory against fascism abroad and for victory against racism at home—led to the creation of the Double Victory campaign. The Double V campaign, as it was commonly referred to, became a mission for African Americans to obtain equal rights by achieving victory abroad and at home, by demanding their right to full citizenship through exemplary service and defending America during wartime.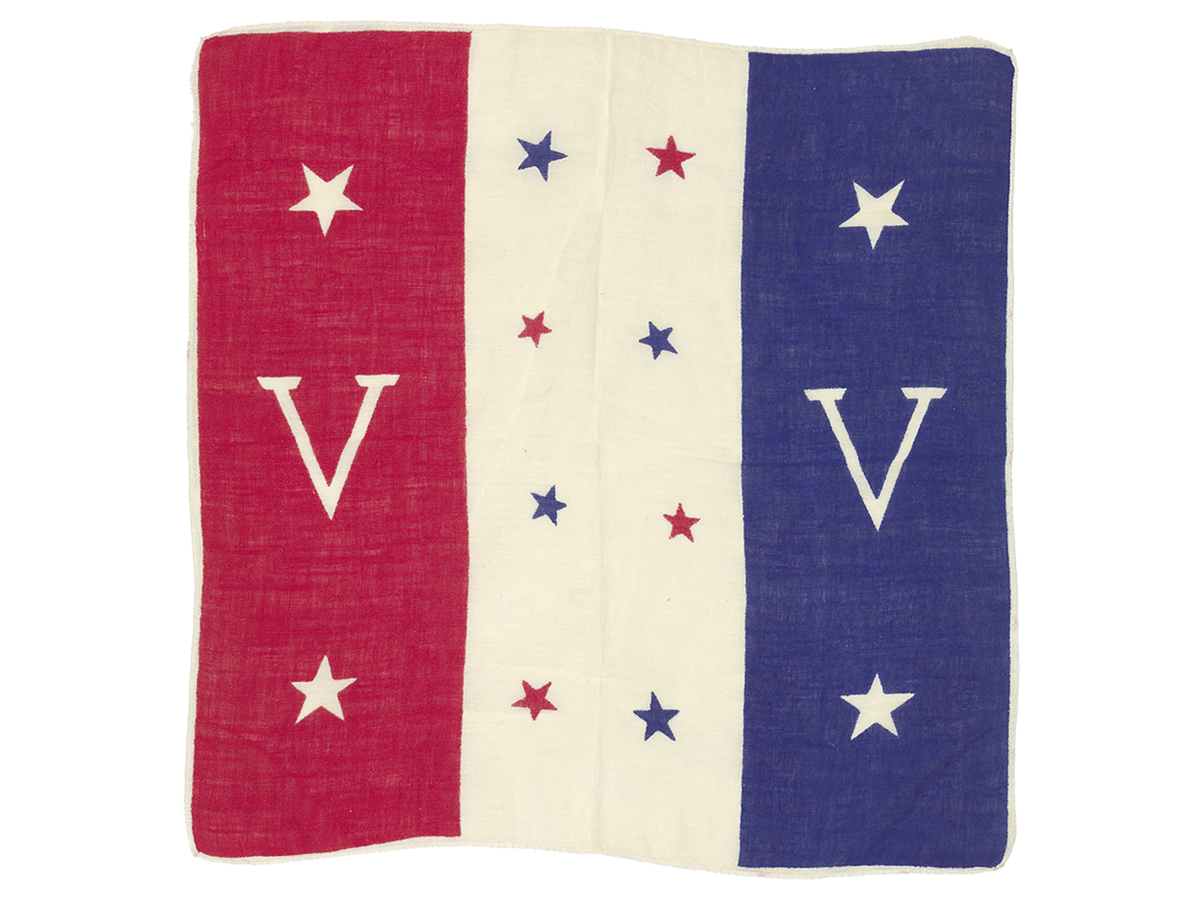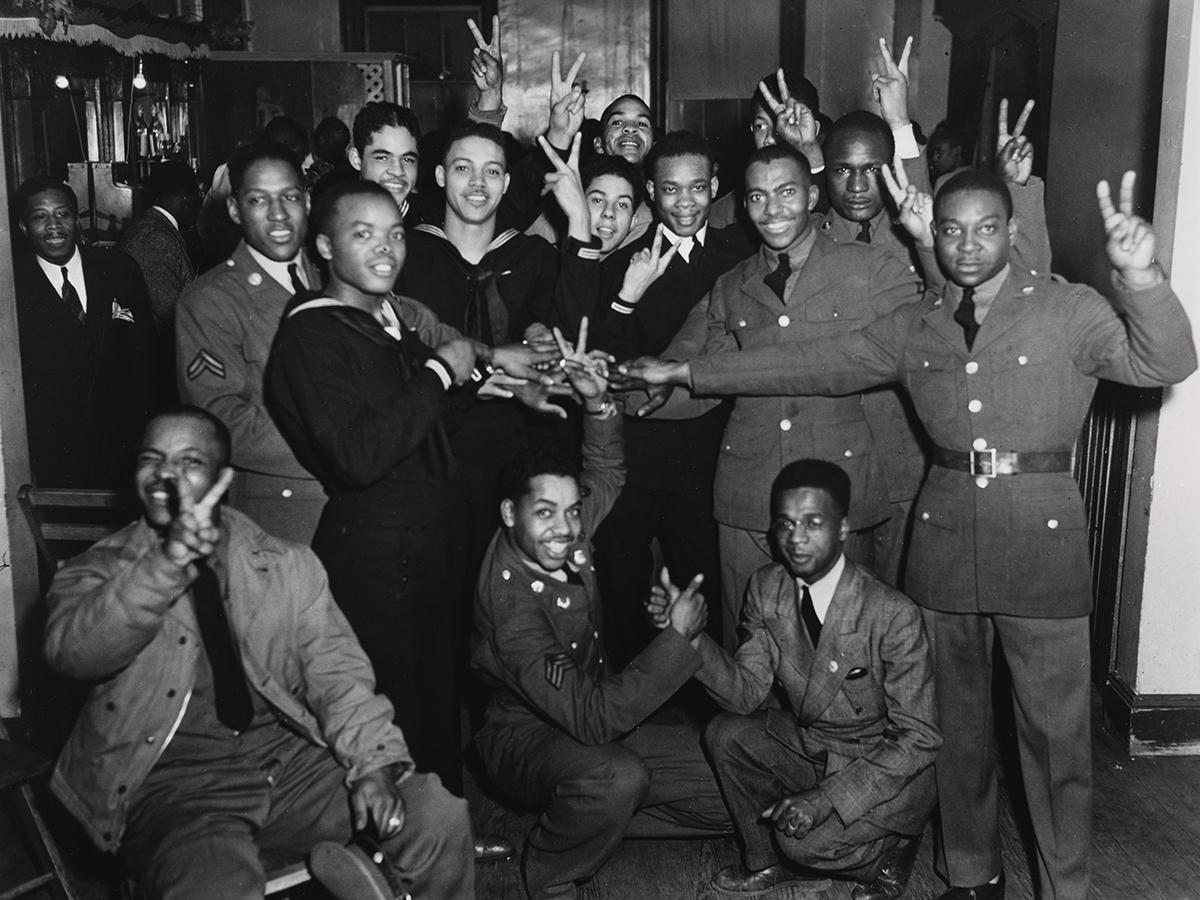 "The V for victory sign is being displayed prominently in all so-called democratic countries which are fighting for victory over aggression, slavery and tyranny. If this V sign means that to those now engaged in this great conflict then let we colored Americans adopt the double VV for a double victory. The first V for victory over our enemies from without, the second V for victory over our enemies from within. For surely those who perpetrate these ugly prejudices here are seeking to destroy our democratic form of government just as surely as the Axis forces."

James Thompson, 1942

Pittsburgh Courier
Examples of notable military figures that were used by the War Department to mobilize African Americans to support the war effort include the Tuskegee Airmen, Mess Attendant 1st Class Dorie Miller, and Maj. Della H. Raney. Photographs, posters, and articles featuring these individuals were widely circulated, promoting Black heroism and contributions through their actions, groundbreaking achievements, and sacrifice.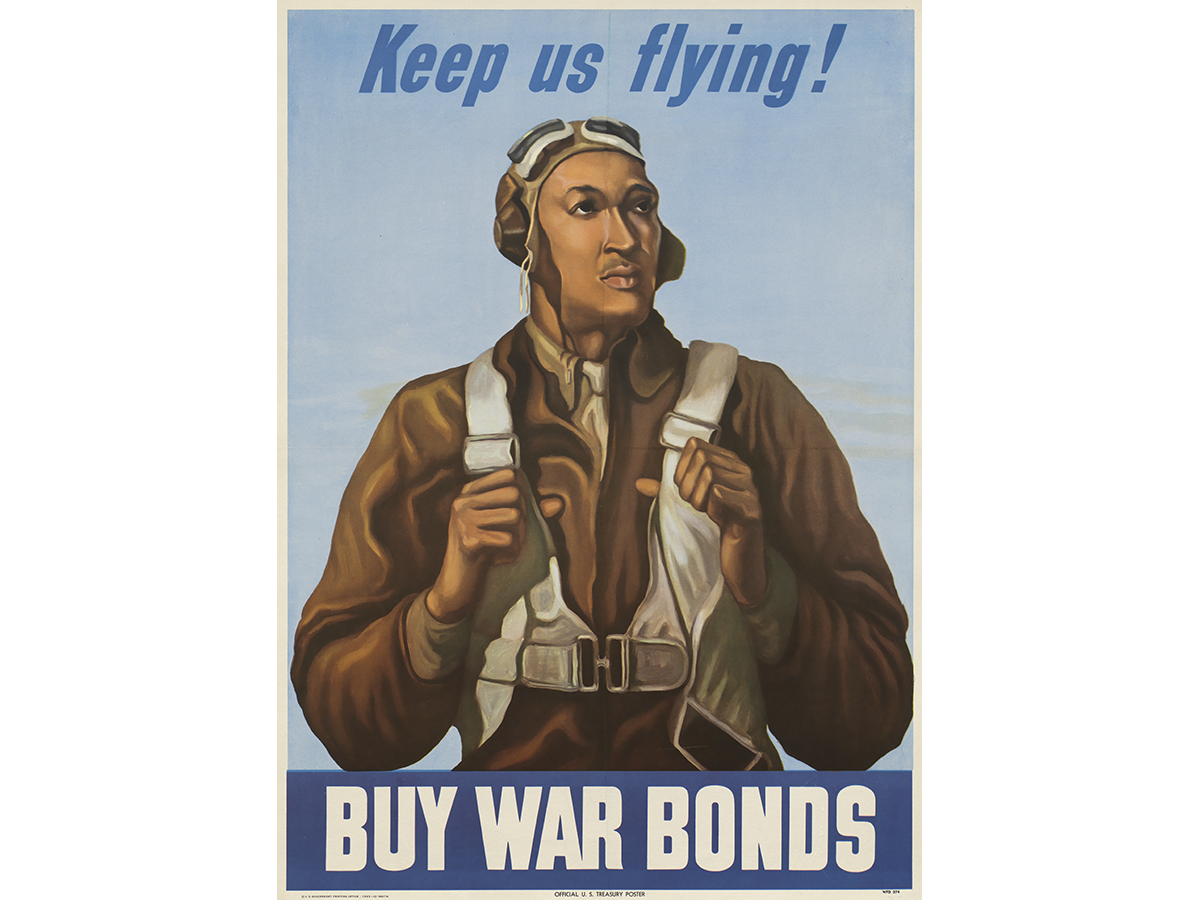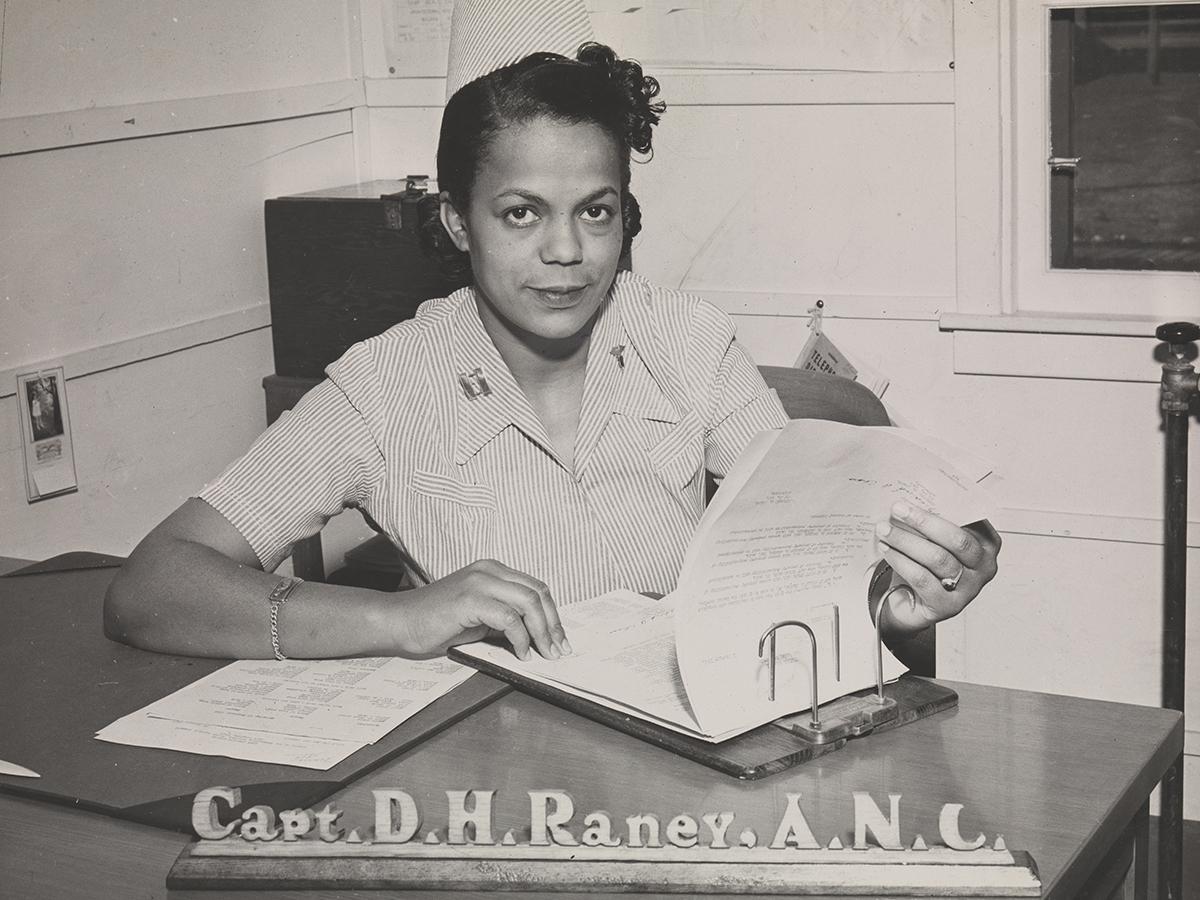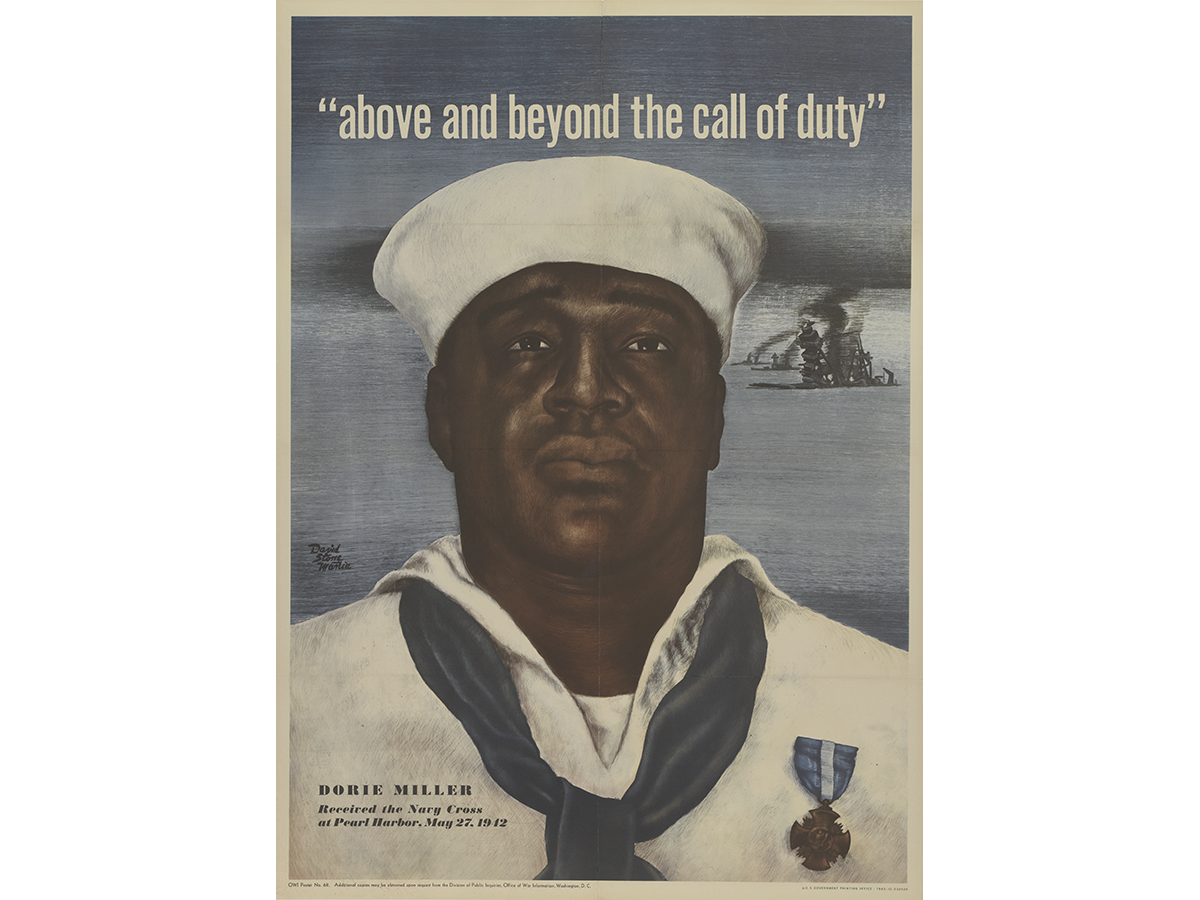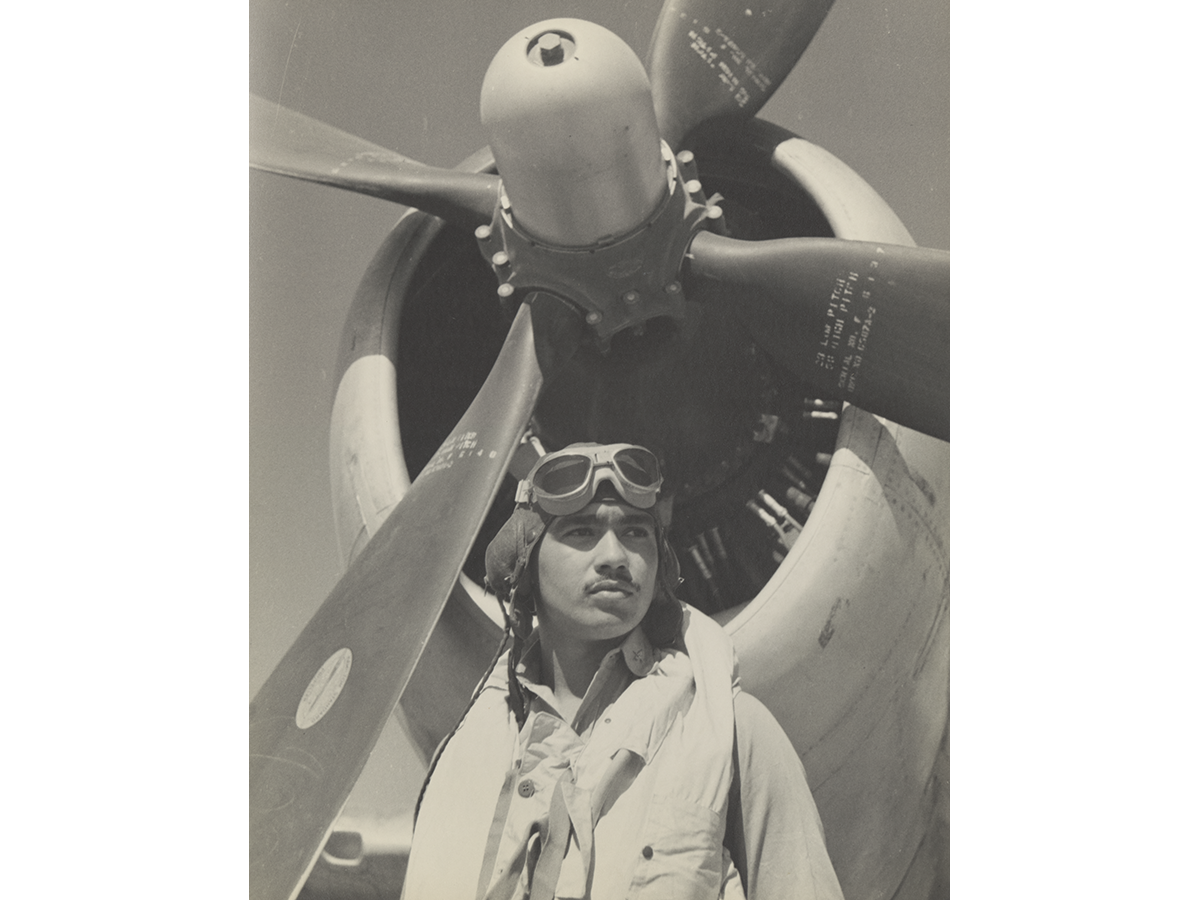 One of the most famed African American sports figures of his time also became one of the nation's most notable servicemembers. Joe Louis (born Joseph Louis Barrow, May 13, 1914–April 12, 1981) was chosen by First Lady Eleanor Roosevelt and the War Department for propaganda efforts and press coverage for his contributions to popular culture and for breaking barriers in the sport of boxing. A cultural icon and heavyweight champion of the world from 1937 to 1949, Joe Louis' record-breaking performances and professional demeanor made him the perfect candidate as a propaganda representative of the Black war effort. While being widely heralded by the press for the benefit of the American military, Louis embodied the mission of the Double V campaign by serving his country as a representative of the African American community while also fighting for civil rights.
Joe Louis was renowned for his boxing talents, gaining the attention of the world during his June 19, 1936 matchup for the world heavyweight title against Hitler's champion, Max Schmeling. With tensions beginning to rise between Nazi Germany and the free world, the ring was used as a proxy platform for international conflict, with Louis and Schmeling serving as their nation's representatives. After a 12th round knockout, Louis was defeated by Schmeling—much to Adolf Hitler's approbation. However, the stakes and tensions were far higher during their rematch at Yankee Stadium two years later on June 22, 1938. The eyes of the world were on the ring with rising tensions in Europe from Hitler's rhetoric and military advancement into Austria. Hitler broadcasted the fight over the radio to the entirety of the Reich and President Franklin D. Roosevelt himself contacted Louis, saying, "Joe, we're depending on those muscles for America."
Louis immediately achieved superstar status after his first-round knockout victory against Schmeling, serving as America's victor over Nazi Germany. Following the outbreak of war, Louis participated in a Navy Relief Society fight on January 9, 1942 and donated nearly $100,000 to the families of Pearl Harbor victims. His significant donation and previous success against Schmeling gained the attention of War Department officials and First Lady Eleanor Roosevelt who saw his potential as a spokesperson who would reach across racial divides and symbolize American victory. Louis was regarded in Black publications including the Pittsburg Courier and Baltimore Afro-American as "a most unselfish patriot" and an example of what could be achieved if the military as a whole—especially the U.S. Navy, which restricted African Americans to menial positions and prevented them from obtaining officer candidacy—lifted racial restrictions in their admissions. He was also praised by predominantly white national publications for using his talents and finances to benefit the country, with writer Paul Gallico heralding Louis as "a simple good American" whose talent and contributions qualified him to represent America on the global stage.
Louis' long-held background as a model citizen with a clean lifestyle and philanthropic contributions to the Black community made him an ideal ambassador for the government's effort to mobilize African Americans. Shortly following his 1942 Pearl Harbor benefit fight, he enlisted in the U.S. Army, becoming Private Joseph Louis Barrow. Upon his enlistment, Louis demanded to go through bootcamp along with his compatriots without special treatment or promotion to an officer, earning him the respect of his fellow soldiers and the national press.
Louis provided his talents on tour with an all-Black boxing team. He instructed and sparred with soldiers, attended fundraising benefits, and even made an appearance in the 1944 film, The Negro Soldier. While serving the nation, he also used his position to advocate for the advancement and equality of African Americans, both actively and symbolically, famously stating in 1943, "lots of things wrong with America, but Hitler ain't going to fix them." He acted on his words in various instances – not only refusing to box for segregated audiences, but notably being arrested during an act of civil disobedience while sitting in a "white's only" seating area in an Alabama bus depot. With his arrest in protest and defiance of segregation, the symbolism of the act gained national attention in the press and caused the redressing of policy regarding segregated busing on military property.
Louis also helped pave the way for African Americans to integrate military sports and achieve advanced ranks in the military, as many talented and qualified Black servicemen were denied entry into officer candidate schools. Very few opportunities were made available for African Americans to become officers, and those who managed to obtain officer status were limited to junior officer ranks. This was to ensure that a Black officer would not be able to command a white officer of lower rank, despite having the capability, talent and work ethic. Louis' leveraging of his position to benefit his fellow man exemplified his service to his community and his country.
The use of Louis as a symbol also broke down racial barriers and began to redefine the image and perception of the Black soldier. In the 1944 film, The Negro Soldier, Louis is heralded as an example of Black, and American, excellence, as he's shown in his triumph against Max Schmeling in 1938. This triumph was taken into a more contemporary lens, as later in the film, then-Private Barrow and Schmeling are shown once-again as opponents, this time wearing their uniforms and representing their respective nations—the United States and Nazi Germany. This film highlights the contributions of African Americans to the United States both in military service and other achievements, while notably excluding the history of slavery. After its release in 1944, the film became mandatory viewing for all new enlistees—regardless of race. By highlighting the contributions and achievements of African Americans throughout American history and warfare, the viewer is left with a lasting appreciation of the Black community and their history of service to the nation—despite their treatment as second-class citizens.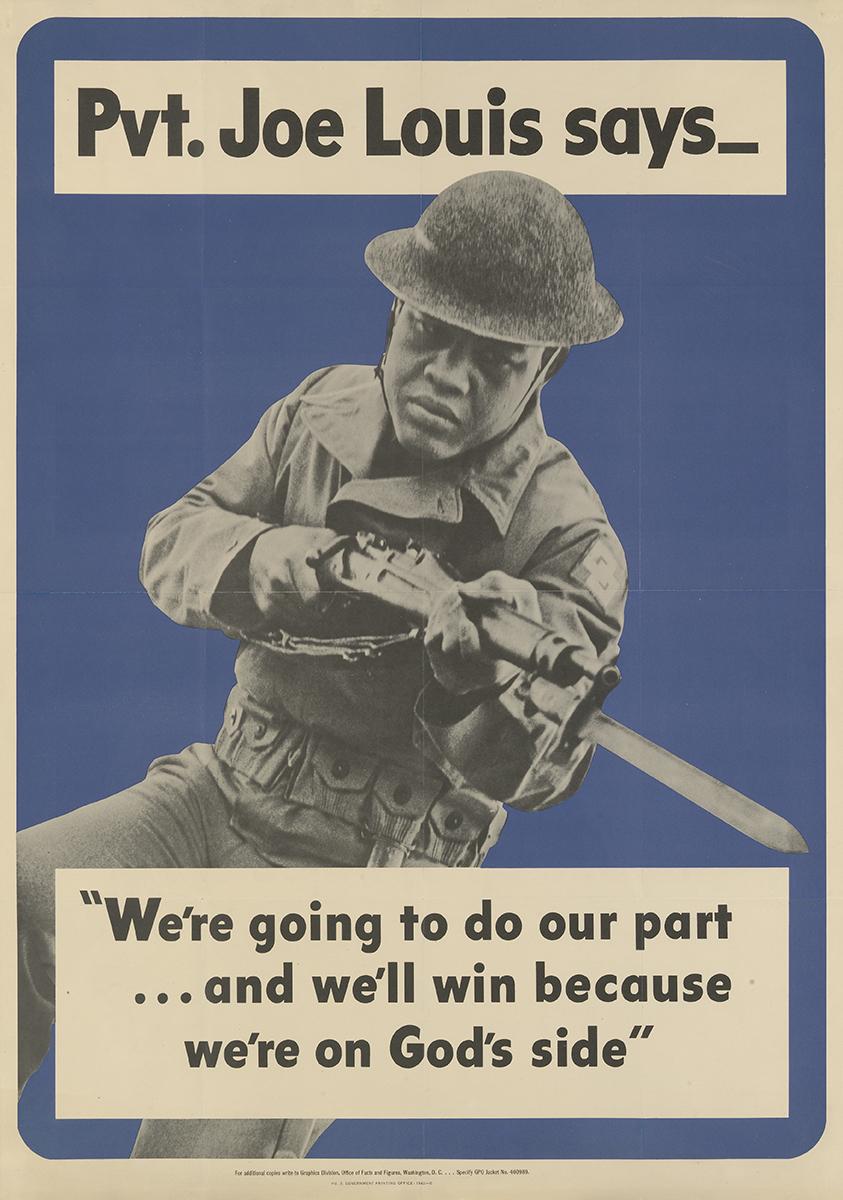 In addition to this film, the depiction of Louis in propaganda also helped redefine the image and consciousness of Black citizenship and service. Louis was featured on many propaganda pieces, most famously in a 1942 poster with Louis in battle with full uniform and fixed bayonet with the text "Pvt. Joe Louis says – 'We're going to do our part … and we'll win because we're on God's side'." Before this image, national media had refrained from printing images of Black men in "violent" military action due to negative reactions from white Americans who disliked and were uncomfortable with the image of an African American soldier. However, the image of Louis and the accompanying quote became a resonant one appreciated by all demographics, able to unite behind their national hero, pro-military content, and the message of national unity in the face of conflict.
Both in action and image, Joe Louis served his country and his community through his time in uniform and in the ring during World War II. Although a non-combatant in his service, Joe Louis served his morale role dutifully and honorably. At the time of his honorable discharge from the Army, he had been promoted to the rank of Technical Sergeant. In his near-four years of service, Louis fought in ninety-six exhibition fights around the world, helped military fundraisers, donated his own money to military relief funds and Black soldiers who needed additional assistance for medical care and burial services, boosted morale, and helped the advancement and deserved recognition of his fellow Black soldiers and sailors. Louis was deservedly honored with the Legion of Merit in 1945 at the end of his military career and upon his death in 1981, President Reagan made an exception to the rules allowing him to be buried in Arlington National Cemetery.
Embodying the message of the Double V campaign through his efforts and service, Joe Louis is an example of selflessness for the betterment of his nation and community.
Browse Objects Relating to Joe Louis in the NMAAHC Collection
Written by Eren Fitzgerald, Summer 2021 Robert F. Smith Fund Digitization Intern
Published on September 28, 2021