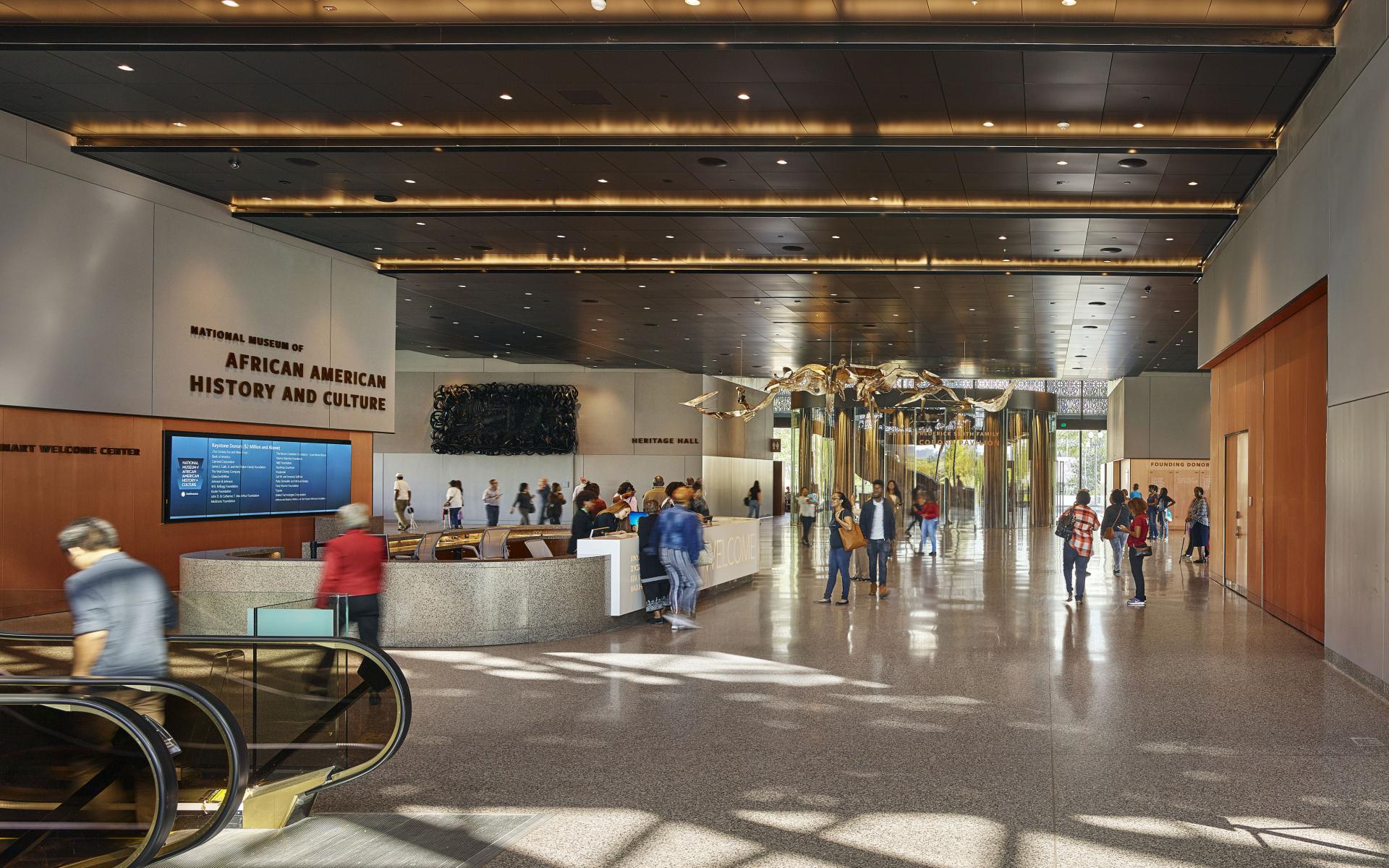 The National Museum of African American History and Culture is open daily to the public. Free timed-entry passes are required for entry.
Hours
Monday          12:00 p.m. to 5:30 p.m. 
Tuesday          10:00 a.m. to 5:30 p.m. 
Wednesday    10:00 a.m. to 5:30 p.m. 
Thursday        10:00 a.m. to 5:30 p.m. 
Friday              10:00 a.m. to 5:30 p.m. 
Saturday         10:00 a.m. to 5:30 p.m. 
Sunday            10:00 a.m. to 5:30 p.m. 
Our museum opens at 10:00 a.m. on Mondays observed as Federal Holidays and is closed on December 25.
---
Free Timed-Entry Passes
All visitors, regardless of age, must have a timed-entry pass to enter the museum.
A limited number of timed-entry passes are available. 
Visitors can reserve timed-entry passes up to 30 days in advance on a rolling basis. 
Advanced timed-entry passes are released daily beginning at 8:00 a.m. EST.  
Same-day timed-entry passes are released online only at 8:15 a.m. EST daily.
Timed-entry passes may not be sold or transferred and are for personal use only.
Individuals can reserve up to six free timed-entry passes for their visit. For groups of 10 or more, please reserve group passes. 
Veterans, active-duty personnel and first responders are welcome to the museum with one guest by presenting a military or work ID badge, without reserving a free-timed entry pass. Entry begins by joining the general line and checking in at the triage tents located near the building entrances on 15th Street and Madison Drive or 14th Street and Constitution Ave.
Please note: museum entry is subject to building capacity; weekends and holidays are peak visitation times. If the museum is at or near capacity, all visitors standing in line will be asked to wait until the museum has room to accommodate them. 
Additional Information 
All children (under the age of 16) must be accompanied by an adult chaperone. At least one adult chaperone is required to accompany up to five children. 
Timed-entry passes are valid only for the issued date. Passes are void if altered. 
Visitors can print timed-entry passes at home or present them on a mobile device. All passes will be scanned prior to entering the museum on Madison Drive or Constitution Ave.
If you cannot visit the museum on your scheduled date, you may cancel or exchange your pass for another day by completing this form.
---
Safety Measures
The following safety measures are in place to protect the health of our visitors, staff and volunteers based on guidance from the Centers for Disease Control and Prevention (CDC) and local governments. We ask that all visitors, including those who have been vaccinated against COVID-19, follow these safety measures to protect everyone's health. Visitors are not required* to show proof of COVID-19 vaccination. 
Please note that we may adjust our safety guidelines based on changing CDC COVID-19 Community Levels. We encourage visitors to regularly check our website before their visit for the latest guidelines. During this time, we are implementing the following safety measures: 
If Sick, Stay Home  
We are asking all visitors who are sick or feel unwell to please stay home. Visitors are encouraged to wash and sanitize hands frequently during their visit. Hand-sanitizing stations will be available throughout our facilities.
Face Coverings
As of March 11, face coverings are not required to visit the National Museum of African American History and Culture. While it will not be required, all visitors who feel more comfortable wearing a face mask during their visit are encouraged to do so.
We encourage visitors to maintain a safe social distance of six feet or more between households and groups when possible, but our museum becomes crowded, especially during peak visitation times. Visitors who wish to avoid crowds are encouraged to plan their visit during weekdays.
*Special events and some after-hours programming may require guests to provide proof of vaccination.
---
Touring the Museum
Please be aware that touring the History Galleries in their entirety will take approximately 2 hours, and will require about 1 mile of walking.
Our highest visitation is from 12:00 p.m. to 4:00 p.m., Friday through Sunday. During this timeframe, there may be long lines to access the History Galleries.
We encourage visitors to eat and hydrate before entering the History Galleries, especially if they have special healthcare needs. 
Some exhibitions, interactives, and indoor spaces may be closed or operate at limited capacity to ensure the safety of our visitors.
Galleries & Interactives
The Pavilion Theater remains closed to visitors.
Some interactives, including the Reflection Booths and Digital Guestbook remain closed.
Entering & Exiting the Museum
Please do not arrive before the entry time on your timed-entry pass.
Timed-entry passes will be scanned at the visitor entrances on Madison Drive or Constitution Avenue, NW.
Visitors with timed-entry passes will be able to enter the museum from the time on their pass until 4:00 p.m.
For everyone's safety, all visitors are required to pass through screening at the entrance to the museum. Please see a list of prohibited items in the museum before planning your visit.
Limiting the items you bring will increase your speed through security checkpoints, helping us all maintain a safe social distance. 
Visitors are required to exit on Constitution Avenue, NW.
Dining & Shopping
The museum store is open daily, from 10:00 a.m. to 5:30 p.m. Hand sanitizer stations are available for use upon entry and exit of the museum store. The Sweet Home Café is open daily, from 11:00 a.m. to 3:00 p.m. with a limited menu.
NMAAHC offers a limited number of Dine and Shop passes to access only the Museum Store and Sweet Home Café between 11:00 a.m. - 2:30 p.m. during regular operating hours. Passes are released 7 days in advance at 8:00 a.m. EST on a rolling basis. Visitors can reserve up to 2 Dine and Shop passes per day.
Frequently Asked Questions
Review our Frequently Asked Questions for more information about planning your visit and what to expect when you arrive at the museum.
Tours & Programs
Please check our upcoming events for specific dates and details. 
Download Our Mobile App
Connect to our free WiFi network, "SI-Visitor" and download our mobile app as a complement to your museum visit and as a way to more easily discover the many additional stories in our collection.