Black History Month Recipes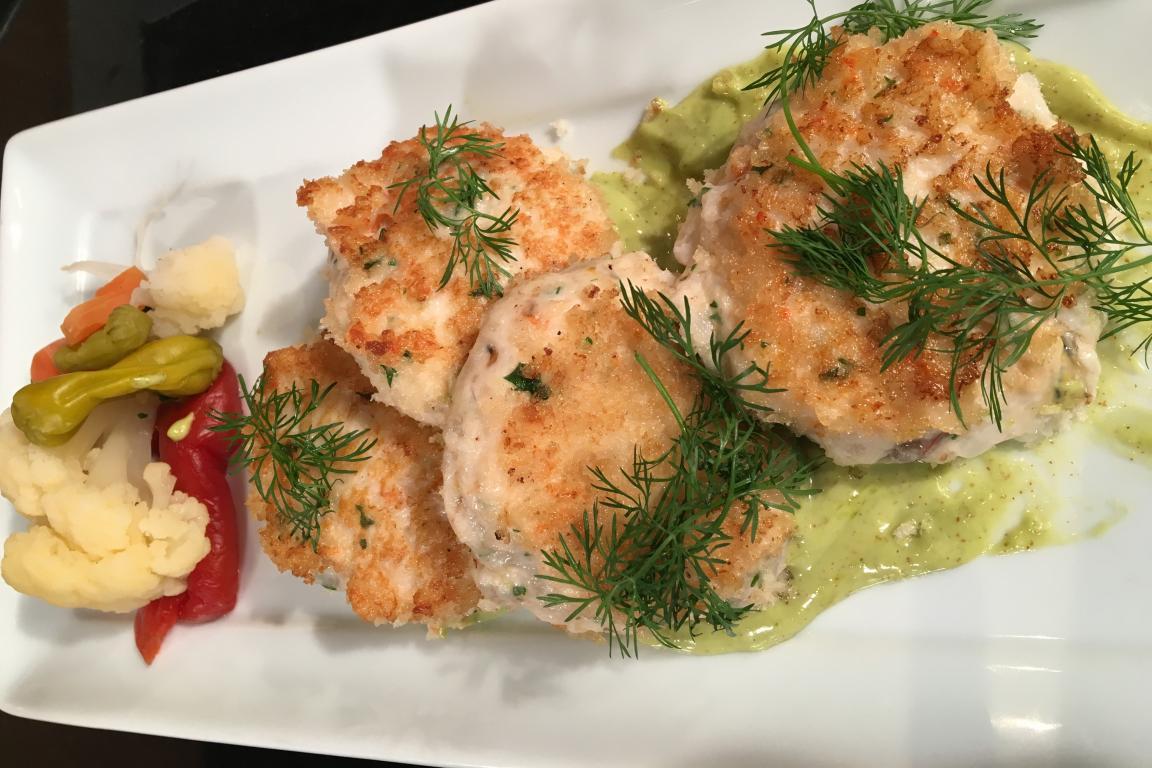 The Museum's James Beard Award-nominated Sweet Home Café has created a special menu for Black History Month. Among the recipes featured here are sautéed shrimp cakes, barbeque ribs, and apple pie. Be sure to check the Museum's event page for more programs honoring the nation's African American culinary legends.
Chef Joe Randall's Sautéed Shrimp Cakes with Herb Mustard Sauce
Yield: 8 servings
Ingredients:
2 pounds (10 to 15 jumbo shrimp)
2 egg whites
1/4 cup mayonnaise
1 tablespoon chopped fresh dill weed
1/2 teaspoon dry mustard
1 teaspoon fresh lemon juice
3 cups fresh bread crumbs
1 cup peanut oil
salt and pepper to taste
Instructions:
Peel and devein shrimp and remove tails. Place half of the shrimp meat in a food processor fitted with metal blade. Puree smooth 1 to 2 minutes. Add the egg whites and puree for 1 minute longer. Pour the mixture into a large bowl and stir in the mayonnaise, dill, mustard, lemon juice, salt, and pepper to taste. Mix well. Chop the remaining shrimp coarsely and add to the mixture. Form into six cakes (each about 3 1/2 ounces) about 1-inch thick. Coat each cake with fresh bread crumbs. Heat the oil in a cast iron skillet over medium high heat. Fry shrimp cakes 3 to 4 minutes on both sides or until golden brown. Drain on paper towels.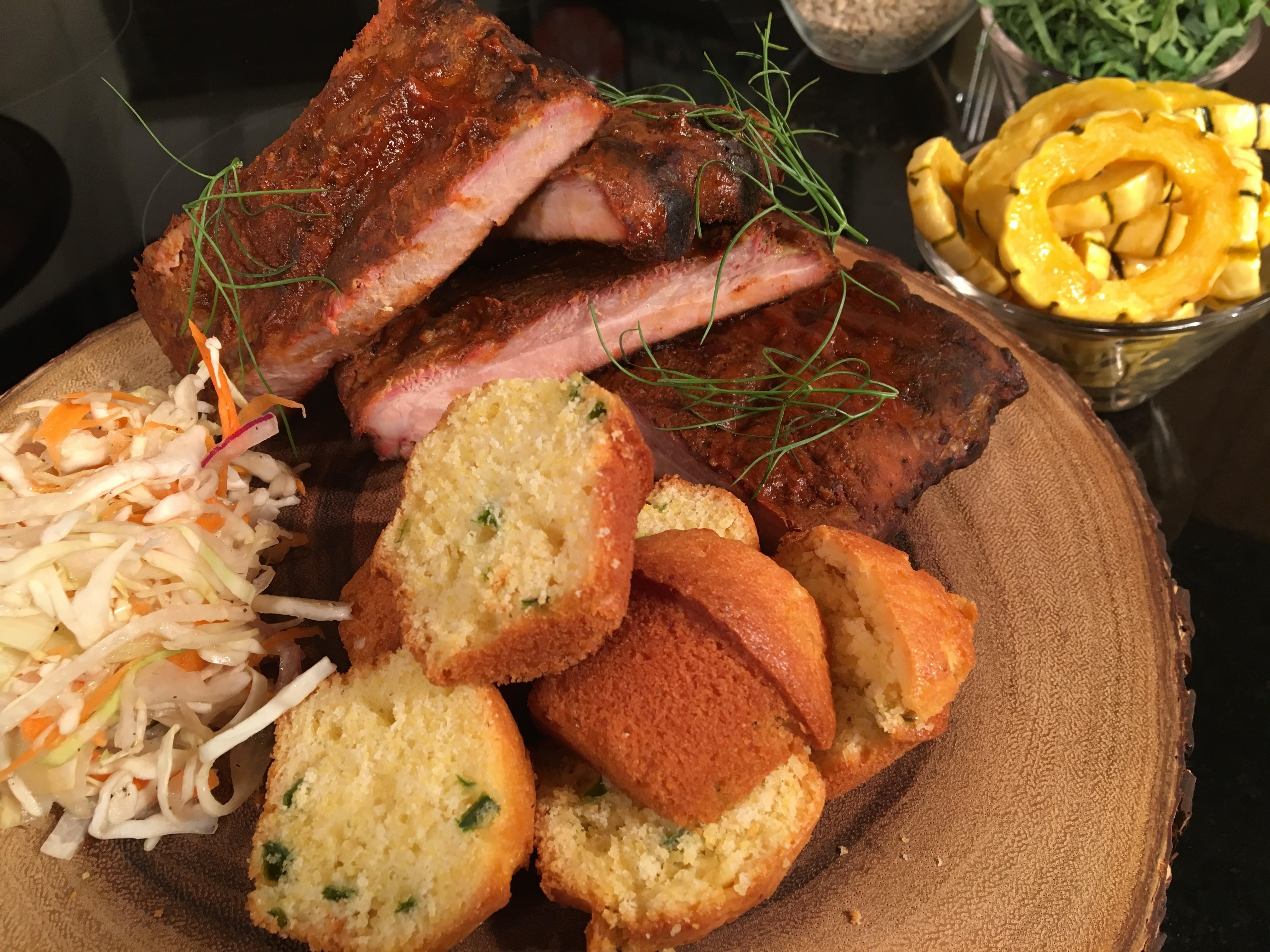 Chef Patrick Clark's Barbecued Ribs with Spicy Coleslaw and Buttermilk-Chile Corn Muffins
Yield: 6 servings
Ingredients:
1/4 cup paprika
2 tablespoons Old Bay Seasoning
1 teaspoon cayenne pepper
2 tablespoons chile powder
2 teaspoons garlic powder
2 teaspoons salt
1 tablespoon sugar
1/2 cup cider vinegar
2 slabs of pork ribs (3 pounds or less), underflap removed
Patrick's Barbecue Sauce
Spicy Coleslaw
Buttermilk-Chile Corn Muffins
2 tablespoons chopped chives
Instructions:
Sift the spices, salt, and sugar together into a bowl. Combine the spice mixture and vinegar to make a paste. Rub the paste into the meat, cover, wrap in plastic, and refrigerate overnight. Preheat the oven to 250°. Unwrap the ribs and place on an aluminum foil-lined sheet pan. Bake for 3 1/2 hours. Do not turn the meat. Heat a grill until very hot. Remove the ribs from the oven and allow to rest for 10 minutes. Place the ribs on the grill top side down for 2 to 3minutes, or until the fat starts to sizzle. Turn the ribs over and brush with the barbecue sauce. Cook for 1 minute. Turn the ribs over and brush with barbecue sauce. Remove the meat from the grill and cut the ribs into 3- to 4-rib pieces. Place a mound of coleslaw on the side of each plate. Arrange a piece of the ribs leaning against the coleslaw and place 2 muffins next to the ribs. Place a ramekin of barbecue sauce on each plate and sprinkle the coleslaw with the chives.
*****
Chef Edna Lewis's Fried Apple Pie
Ingredients:
Pastry:
1 ½ cups flour
3 tablspoons cold unsalted butter, cut into ½ inch cubes
3 tablespoons cold vegetable shortening (preferably trans fat free), cut into ½ pieces
1 teaspoon baking powder
¼ teaspoon salt
1 large egg, lightly beaten
4 to 5 tablespoons ice water
Filling:
4 ½ ounces unsulfured dried apples (2 cups)
2 cups unfiltered apple cider
1 1/2 cups water
2 ½ tablespoons packed light brown sugar
1 teaspoon grated lemon zest
¼ teaspoon cinnamon
Frying and Serving:
About 2 quarts vegetable oil
Confectioners sugar for dusting
Deep-Fat thermometer
Instructions:
Pastry:
Blend together flour, butter, shortening, baking powder, and salt in a bowl with your fingertips or a pastry blender (or pulse in a food processor) until mixture just resembles coarse meal. Whisk egg with 1/4 cup ice water, then drizzle evenly over flour mixture and gently stir with a fork until incorporated.
Squeeze a small handful: If it doesn't hold together, add more ice water, 1/2 tablespoon at a time, stirring (or pulsing) until incorporated.
Gather dough and knead just until smooth, 3 or 4 times, on a lightly floured surface (do not overwork, or pastry will be tough). Form dough into 2 (5-inch) disks and chill, wrapped in plastic wrap, until firm, at least 1 hour.
Filling:
Briskly simmer all filling ingredients and a pinch of salt in a heavy medium saucepan, uncovered, stirring occasionally and mashing apples with a potato masher as they soften, until a thick purée forms, about 20 minutes. Cool completely.
Pies:
Divide 1 disk of dough into 6 equal pieces. Roll out 1 piece on a lightly floured surface with a lightly floured rolling pin into a 6-inch round, then put 2 heaping tablespoons of filling in center. Lightly moisten edge with water and fold dough over to form a half-circle, pressing out air around filling, then pressing edge to seal. Transfer to a large sheet of parchment paper and press floured tines of a fork around edge. Make more pies with remaining dough and filling (you may have some filling left over).
Set a cooling rack on a large baking sheet or tray. Heat 2 inches of oil in a 4- to 5-quart heavy pot (preferably cast-iron) over medium heat until it registers 360 to 370°F on thermometer. Fry pies, 3 or 4 at a time, turning occasionally, until deep golden-brown, 7 to 8 minutes per batch. Transfer to rack to drain. Return oil to 360 to 370°F between batches. Dust warm pies with confectioners' sugar before serving.
For more on the new wave of African American chefs safeguarding southern foodways, see the Museum blog post "African American Culinary Chefs."