The Seven Principles of Kwanzaa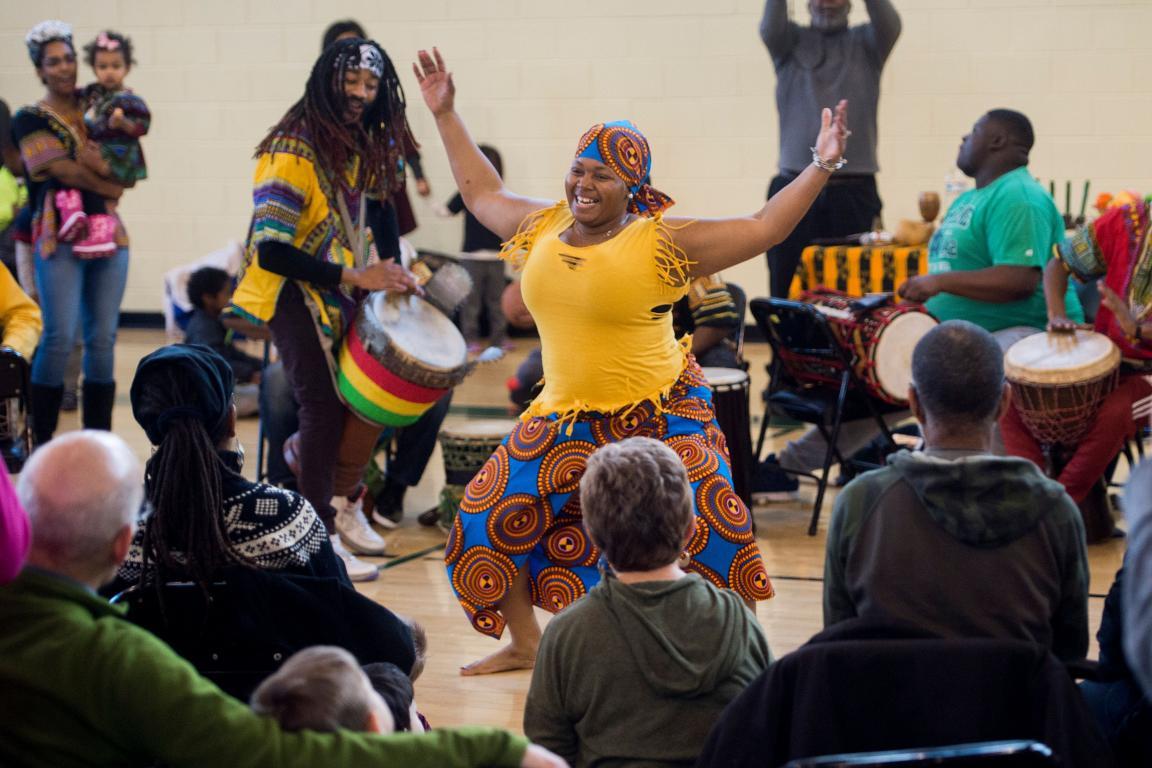 Kwanzaa is a time of learning, family and celebration.
During the week of Kwanzaa, families and communities come together to share a feast, to honor the ancestors, affirm the bonds between them, and to celebrate African and African American culture. Each day they light a candle to highlight the principle of that day and to breathe meaning into the principles with various activities, such as reciting the sayings or writings of great black thinkers and writers, reciting original poetry, African drumming, and sharing a meal of African diaspora-inspired foods. The table is decorated with the essential symbols of Kwanzaa, such as the Kinara (Candle Holder), Mkeka (Mat), Muhindi (corn to represent the children), Mazao (fruit to represent the harvest), and Zawadi (gifts). One might also see the colors of the Pan-African flag, red (the struggle), black (the people), and green (the future), represented throughout the space and in the clothing worn by participants. These colors were first proclaimed to be the colors for all people of the African diaspora by Marcus Garvey.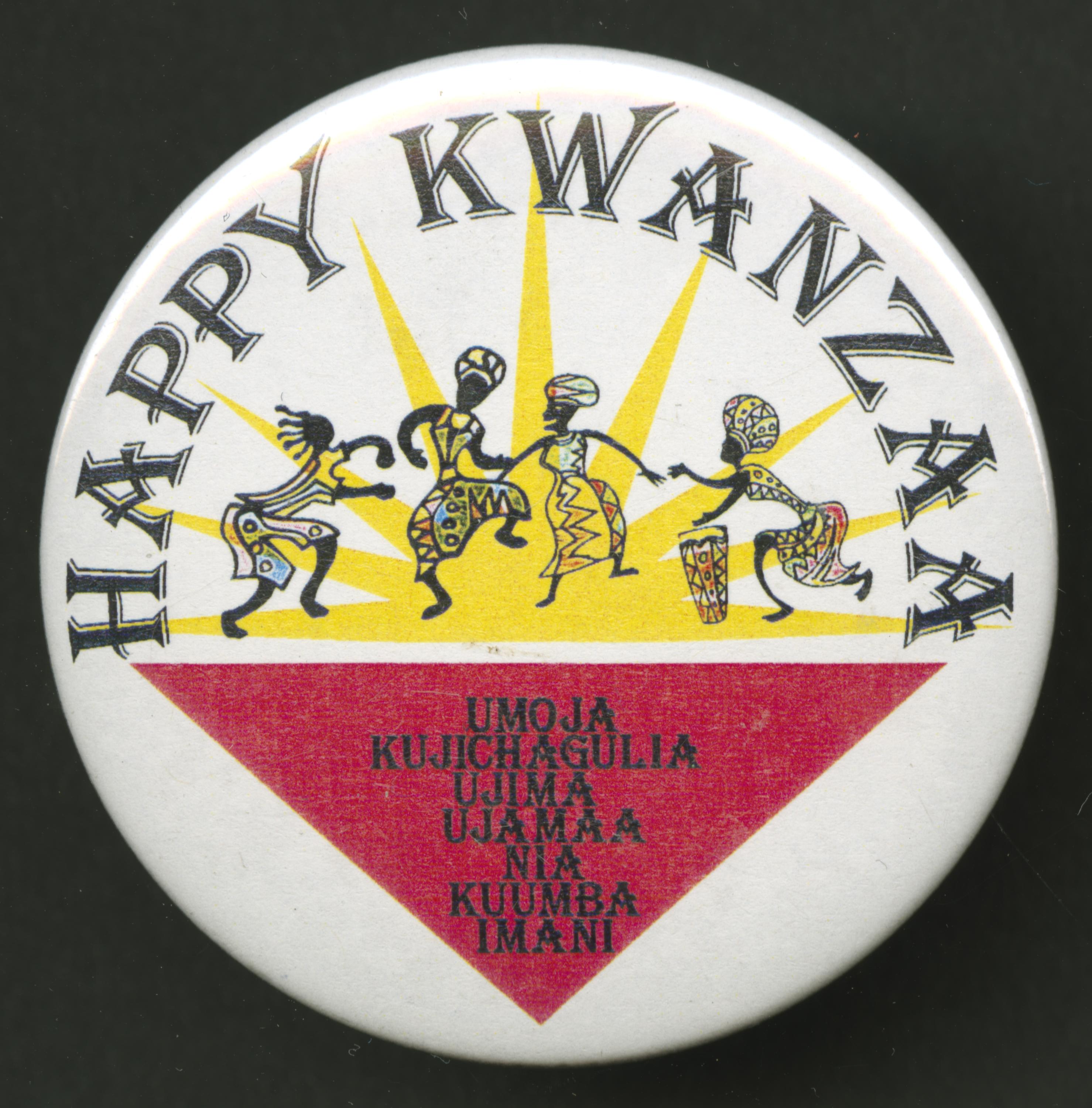 On each day of Kwanzaa, light a candle for that day's principle on your candleholder (Kinara).
Please refer to the following suggestions as you plan activities for each day. As we are in a pandemic, we imagine you will be celebrating with immediate family this year. For more information, see the book, Kwanzaa: A Celebration of Family, Community and Culture by Maulana Karenga. (University of Sankore Press. Los Angeles. 1998)
Umoja (Unity)
To strive for and maintain unity in the family, community, nation, and race.
Song for reflection: Worth His Weight in Gold (Rally Round the Flag), Steel Pulse
Thought for the Day: Morrison, Toni. Beloved. First Edition. Alfred A. Knopf,  1987.  pp. 88
Baby Suggs (holy) gives a sermon in the Clearing:
"Here," she said, "in this here place, we flesh: flesh that weeps, laughs; flesh that dances on bare feet in grass. Love it. Love it hard. Yonder they do not love your flesh. They despise it. They don't love your eyes; they'd just as soon pluck em out. No more do they love the skin on your back. Yonder they flay it. And O my people they do not love your hands. Those they only use, tie, bind, chop off and leave empty. Love your hands! Love them. Raise them up and kiss them. Touch others with them, pat them together, stroke them on your face 'cause they don't love that either. You got to love it, you! And no, they ain't in love with your mouth. Yonder, out there, they will see it broken and break it again. What you say out of it they will not heed. What you scream from it they do not hear. What you put into it to nourish your body they will snatch away and give you leavins instead. No, they don't love our mouth. You got to love it. This is flesh I'm talking about here. Flesh that needs to be loved. Feet that need to rest and to dance; backs that need support; shoulders that need arms, strong arms I'm telling you. And o my people, out yonder, hear me, they do not love your neck unnoosed and straight. So love your neck; put a hand on it, grace it, stroke it and hold it up. And all your inside parts that they'd just as soon slop for hogs, you got to love them. The dark, dark liver-love it, love it, and the beat and beating heart, love that too. More than lungs that have yet to draw free air. More than your life-holding womb and your life-giving private parts, hear me now, love your heart. For this is the prize."
Today's Recipe: Dates, Figs & Milk
Kujichagulia (Self-Determination)
To define ourselves, name ourselves, create for ourselves and speak for ourselves.
Song for reflection: I am the Black Gold of the Sun, Rotary Connection & Minnie Riperton
Thought for the day: Black, Daniel. The Coming. St. Martin's Press, New York. 2015. pp 9-10.
"We didn't know we wouldn't return. We simply believed some terrible calamity had befallen us, that our Gods had let tragedy come because we had not honored them. But we were wrong. We were warriors and hunters, poets and jali, farmers and soothsayers. We were magicians and healers, artisans and thinkers, writers and dancers. We were fathers and mothers, sisters and brothers, cousins and kinsmen. We were lovers. And we were home. We loved the land and it loved us. We were black like the land, and kissed by the sun. We knew our strengths and our frailties, and we knew much needed improvement. But we were home."
Today's Recipe: Seasoned Olives
Ujima (Collective Work and Responsibility)
To build and maintain our community together and make our community's problems our problems and to solve them together.
Song for reflection: Optimistic, Sounds of Blackness
Thought for the Day: Wilkerson, Isabel. The Warmth of Other Suns. Random House, 2010. Pp. 538
"Over the decades, perhaps the wrong questions have been asked about the Great Migration. Perhaps it is not a question of whether the migrants brought good or ill to the cities they fled or were pushed or pulled to their destinations, but a question of how they summoned the courage to leave in the first place or how they found the will to press beyond the forces against them and the faith in a country that had rejected them for so long. By their actions, they did not dream the American Dream, they willed it into being by a definition of their own choosing. They did not ask to be accepted but declared themselves the Americans that perhaps few others recognized but that they had always been deep within their hearts."
Today's Recipe: Caribbean Sorrel
Ujamaa (Cooperative Economics)
To build and maintain our own stores, shops and other businesses and to profit from them together.
Song for reflection: We're a Winner, Curtis Mayfield
Thought for the Day: Davis, Angela. Angela Davis: An Autobiography. Random House. Inc., 1974. Pp. 89
"This was my first introduction to class differences among my own people. We were the not-so-poor. Until my experiences at school, I believed that everyone else lived the way we did. We always had three good meals a day. I had summer clothes and winter clothes, everyday dresses and a few "Sunday" dresses. When holes began to wear through the soles of my shoes, although I may have worn them with pasteboard for a short time, we eventually went downtown to select a new pair.
The family income was earned by both my mother and father. Before I was born, my father had taken advantage of his hard-earned college degree, from St. Augustine's in Raleigh, North Carolina, to secure a position teaching history at Parker High School. But life was especially difficult during those years; his salary was as close to nothing as money could be. So, with his meager savings he began to buy a service station in the Black section of downtown Birmingham.
My mother who, like my father, came from a very humble background, also worked her way through college and got a job teaching in the Birmingham elementary school system. The combined salaries were nothing to boast about, yet enough to survive on, and much more than was earned by the typical Southern Black family. They had managed to save enough to buy the old house on the hill, but they had to rent out the upstairs for years to make the mortgage payments. Until I went to school, I did not know that this was a stunning accomplishment."
Today's Recipe: Pink Party Punch
Nia (Purpose)
To make our collective vocation the building and developing of our community in order to restore our people to their traditional greatness.
Song for reflection: Higher Ground, Stevie Wonder
Thought for the Day: "Poem About My Rights" by June Jordan
Today's Recipe: Sauteed Pecans 
Kuumba (Creativity)
To do always as much as we can to leave our community more beautiful and beneficial than we inherited it.
Song for reflection: Africa, John Coltrane
Thought for the Day: Jones, Leroi (Amiri Baraka). Blues People: Negro Music in White America. William Morrow, 1963. Introduction, ix-x.
"How did it do this? What was so powerful and desperate in this music that guaranteed its continued existence? This is what pushed me. But as I began to get into the history of the music, I found that this was impossible without, at the same time, getting deeper into the history of the people. That it was the history of the Afro-American people as text, as tale, as story, as exposition, narrative, or what have you, that the music was the score, the actually expressed creative orchestrated, vocalized, hummed, chanted, blown, scatted, corollary confirmation of the history. And that one could go from one to the other, actually, from the inside to the outside, or reverse, and be talking about the same things. That music was explaining the history as the history was explaining the music. And that both were expressions of and reflections of the people."
Today's Recipe: Molasses Water
Imani (Faith)
To believe with all our hearts in our people and the righteousness and victory of our struggle.
Song for reflection: Keep Your Head to the Sky, Earth, Wind, and Fire
Thought for the Day: Poem, "For My People" by Margaret Walker
Today's Recipe: Spicy Vinegar